Skipping JV, many girl softball players go straight to the top since their freshman year
Freshman year softball player Ayden Weber stepped up to the plate on the varsity team after coach Brian Baldridge told Ayden, "You're going in." Weber was up to bat and had a 3-2 count.
"With 3 balls and 2 strikes, of course, I was telling myself: 'I have to hit this ball as hard as I can.' I ended up swinging the bat so hard that the ball went right past the first baseman," Weber said.
The ball rolled into the outfield and the team overthrew it back to the first baseman, so Weber ran to second. Again the team overthrew the ball so Weber ran all the way to third base.
"It was my first time playing on the team, and I ended up
getting a triple and got three girls in," Weber said.
Weber is one of many softball players who started varsity their freshman year along with sophomore Sydney Lezovich, junior Kennedy Quinn, seniors Sophie Konkal, and Ellie Kroll.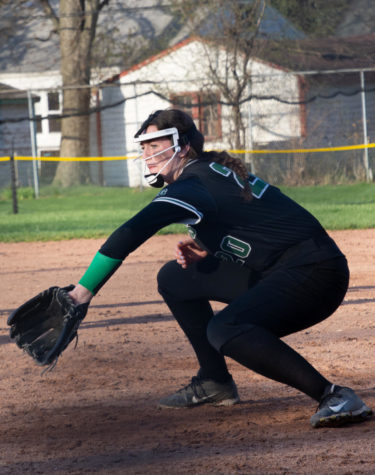 Coach Brian Baldridge praised Lezovich's perseverance, versatility, and talent.
"She's electric. Her name or nickname is Smoke. Just everything she does, she just refuses to lose and she's the ultimate competitor, do whatever you need to have done, play short 'Okay', centerfield, 'Okay' and you need to pitch, 'Okay', right field, it doesn't matter she can play anywhere and she can hit anywhere in the lineup. She's dynamic," Baldridge said.
The team didn't have a center fielder and Lezovich had never taken an outfield ball all year when Baldridge told her he needed her to play center field.
"She's like 'okay', and then she proceeds to make two catches that we're remarkable. These catches that should have been hit, taken away from the other team, and she's just doing whatever needs to be done" Baldridge said.
As a senior, Kroll also sees the talent in the younger Lezovich.
"Sydney Lezovich is one of the best players on the team. She is an unbelievable hitter she hits doubles after doubles and then sometimes even triples, she even sometimes hits the back fence, she is also the starting pitcher which I'm also a pitcher so seeing her start makes me really happy because she is so young and she does have a lot of power when she pitches and she also has 7 different pitches which are insane," Kroll said.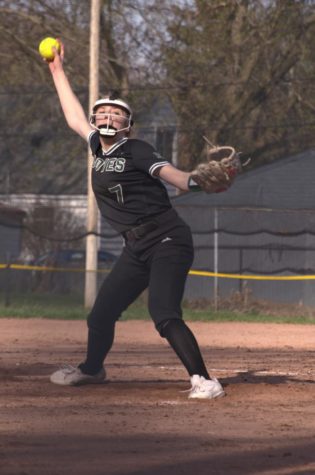 Like Lezovich, Baldridge gave sophomore center fielder Aiden Lockwood a nickname, sunny, as she took on a new position this year.
"Over this season we've played quite a bit, and I've really learned to love my position. I've never played in the outfield before because I've always played shortstop or 3rd, and I hope to play this part of the field for two more years," Lockwood said.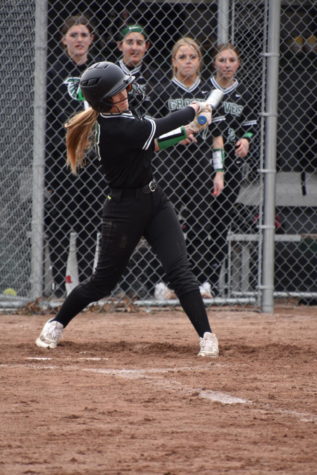 While Lockwood enjoyed her new position, Kroll enjoyed watching her rising success. During the game against Bloomfield Hills, one girl hit a ball all the way to center field, and it was about to go over the fence but Lockwood jumped up and caught the ball, and it saved a home run.
"When we saw that, we didn't know what was going to happen. We believe that every player will make the catch, or will make the throw, or will get the hit, but when she caught it, she hit her head and we were concerned for her," Kroll said.
"Then she got up and she showed us that she caught the ball everyone including the parents, the coaches and players started screaming and were super happy she made the last out."
While the underclassmen represent the future of the team, they said they couldn't be where they are without the leadership of senior captains Sophie Konkal and Ellie Kroll.
"I felt like I wanted that leadership role to teach the younger girls, so then when they are eventually captain, they will feel like they deserved that position."
Konkal and Kroll have been together on varsity for four years and both said they complement each other.
"I think we work well together. Sophie is a really good captain. We lead the warm-ups together, so we run around the field, then we lead muscle memory, and throwing progression. When we are on the field together, I'm usually at first, and she's at short, so we are covering the whole field. We are always talking to the girls about what play is next, 'get ready', and 'it's coming to you," Kroll said.
Coach Baldridge agrees that Konkal and Kroll work very well together. Kroll and Konkal take the team and do something called big sister, little sister. It's older girls that look out for the younger girls and just look out for them and just let them know that we've been there.
"Well, they've been very instrumental in just keeping the program going in the right direction and they were outstanding in the offseason with being leaders and doing what leaders need to be doing. It doesn't matter if you're a freshman or a senior, they just include everybody. But I think that this year, seniors have done a great job in helping everyone feel included and a part of the program," Baldridge said.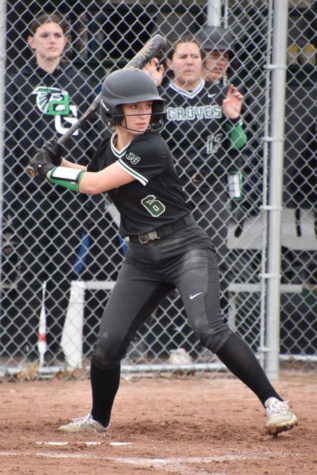 Senior shortstop Sophie Konkal loads up to swing as a Bloomfield Hills pitcher bullets the softball towards the catcher on April 20. "I've been training hard in the off-season with a hitting coach and I'm glad to see that my work has been paying off," Konkal said. (Eliza Brown)
Baldridge sees potential for Konkal. He thinks it impacted her because she is interested in pursuing softball down the road and college as well.
"Sophie, she's been in the program for four years and she has done so many wonderful things and led in so many different ways. She has been the leadoff hitter for the last two years and being the leadoff hitter is not an easy thing. She's your hardest critic, she is her toughest critic, " Baldridge Said.
While Konkal is ending her season at Groves, she continues her life in softball down the road.
" I mean softball has always been a part of my life, so when I came to groves it was the next step that I was excited to start doing. I just committed to Hope College, and I'm going to try out for their team in the fall, " Konkal said.
Since time as seniors for Kroll and Konkal is coming to an end, Baldridge knows they want to leave a mark on the younger generation of the team. Baldridge believes the girls ended any sense of hierarchy between grades
"Last Saturday, we had an all day tournament, and there was a four-hour chunk of time where they could go or they could leave between the first game and our second game. The girls all voted to just stick around and be together. I think that they've learned from the seniors, Ellie and Sophie, elevating each grade," Baldridge said. "I think the legacy that they're leaving behind is that they truly believe that every person has a role. If you didn't know who was who, you wouldn't know who was a freshman, who was a sophomore, who was a junior, who was a senior."
Leave a Comment
Donate to The Groves Scriptor
Your donation will support the student journalists of Wylie E. Groves High School. Your contribution will allow us to purchase equipment and cover our annual website hosting costs.
About the Contributor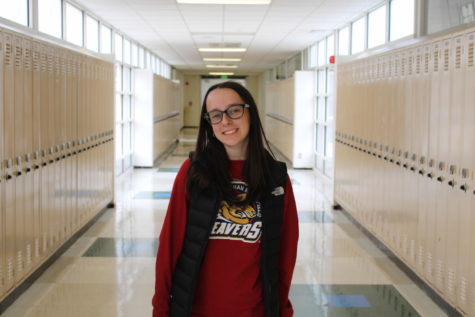 Eliza Brown, Editor
Eliza Brown is a Sophomore and a sports editor for the Groves Scriptor. When not working on The Scriptor, she is a member of the Groves Varsity Pom-Pon...