Groves Competition: It Can Make or Break You
B, an above-average grade, but for some Groves students it might as well be an F.
 "A is the only way," Alexis Heller said. 
Currently a junior at Groves, Heller has a rigorous schedule of being a student-athlete on double varsity.
 "That's my mindset, I have to have As," Heller said. 
Heller's a voice of the mindset many Groves kids share. When asked if she felt any competitiveness at Groves, she agreed there was some on the academic scale. 
"I know a lot of people compare grades and a lot of people hold themselves with high standards for their grades, especially for the classes I'm in like APs and Honors classes. But I also think there's that other level of people who don't really hold themselves accountable, so I think its a large range," Heller said. 
With any school, there are going to be students who care, and students that don't—  but with the students who do care at Groves, they care a lot. 
Groves High School is ranked 874th in the country, according to data from 2020. Roughly 61% of students have taken an AP course, with 48% passing at least one of their AP exams. So the number of students who are a part of this academic competitiveness can be argued to be over 50% of juniors and seniors, since AP courses aren't very popular for underclassmen.
Groves senior Stella Grake doesn't feel as though there's much academic competitiveness clouding her mind, but when it comes to extracurriculars… it's a different story. Grake captains the swim and water polo teams and is a member of GSC (Groves Student Council), NHS (National Honors Society), Pre-Med Club, and previously BBBS (Big Brother Big Sister) and the Youth Action Board. She is the head of publicity for GSC and on the executive board of NHS.
"Sometimes I feel like I took on too much like during charity week… because I swim and then I have class meetings, planning the t-shirts— and I have extra stuff, especially with publicity. Publicity puts up all the decorations in the school, so I'd have to make room for all of that stuff…There's certain weeks in the year when I feel like I took on too much," Grake said. 
Groves prides itself not only on academic achievements, but also on their broad assortment of extracurriculars. You can join a club, you can make a club, you can be a part of the student congress, NHS, the art honor society and many other leadership roles. Students similar to Heller and Grake don't only overachieve with their classroom efforts, but with extracurriculars too.
"Right now I'm in AP Chemistry, AP Psych, AP Stats and those are my AP classes [for this year]. My junior year I took AP Physics, AP Lang, AP Gov, Honors French 4 and Honors Anatomy, and I was on the advanced track for math so I took Precalc last year," Grake said. 
Some students love the competitive nature, but for those who don't, how are they expected to escape it? For students who aren't like Heller and Grake, who don't overachieve and don't like competition, Groves can be a difficult culture to deal with and it can cause insecurity.
"I'd say [a] con is when you get a bad grade you don't want to share it. You're seeing everyone around you getting these good grades and you're not, and it just affects you mentally," Heller said.
For students who don't enjoy comparing their grades with their friends, watching their PowerSchool like a Netflix series, or leading a club, this environment can be draining. Grake even made comments about feeling burnt out at times, and she enjoys the Groves atmosphere. 
While there are many mental health outlets and counselors at Groves, it takes a lot to go up to them. Heller and Grake both shared that they wouldn't go to a school counselor because they have a support system from their friends and family who know them best. Students who don't share these connections are vulnerable to struggling.
Groves is known to be a school that doesn't rank its students or select a valedictorian. This is an indicator that the administration is well aware of the competition students feel to be better than their peers and has been sought out as some sort of solution.
"I think it's good that they don't rank their students. I personally wouldn't drive myself crazy over it, but I know some of my classmates would make themselves go insane if they weren't top ten in the class," Grake said.
But why are students creating this culture with one another if it can cause increased stress levels? The sleepless nights, cramming the class before, extra credit, and overdone presentations all have one common denominator: college. Coming from a competitive environment, most students want to carry on their academic careers at a competitive university, most notably the University of Michigan, which is a large feeder school for Groves students. 
"If colleges didn't care, I wouldn't be doing half of this stuff. Whenever I apply to something, I always think how would this look on my college resume? So when e-board decisions came out for GSC, BBBS and NHS, the thing I was thinking about was which one is going to look better on my college application. Do they care if I'm secretary of BBBS or president of NHS on my applications? It's always in the back of my mind," Grake said. 
While college is a great motivator for students to get through high school, what about once you get into your dream university? Does the competition just heighten?
Leave a Comment
Donate to The Groves Scriptor
Your donation will support the student journalists of Wylie E. Groves High School. Your contribution will allow us to purchase equipment and cover our annual website hosting costs.
About the Contributor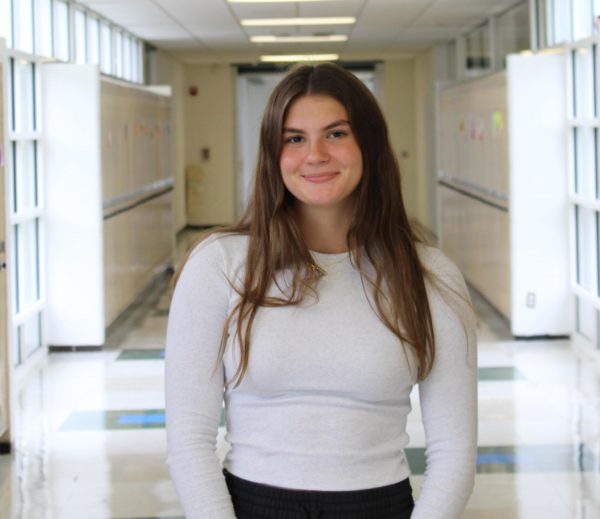 Alexis Auten, Editor-in-Chief
Alexis Auten is a senior at Groves and one of the current Editors-in-Chiefs(2023-2024). This is her third year writing for the Scriptor and she enjoys...