Division 1 commit senior Karen Austin leads the Groves girls swim team during their 2021 season
She earned Scholastic All-American.
She committed to a Division 1 school, University at Buffalo.
She led Groves to a 2nd place finish at the 2021 league meet.
Senior Karen Austin has made it her goal to bring the girls' swim program back to what it once was.
"The goal for the team is to build back up tradition and spirit. We want to embrace what Groves emerald tide was always known for grit," Austin said.
Austin proved her grit after a less than ideal start to the league meet on November 5.
"My 200 free wasn't my best performance so I was upset, but I had to switch my mindset quickly for my next event, the 100 fly. I went into the locker room and sat down and thought about what I needed to do better," Austin said. "I was able to channel my emotions well. Near the end of the race, I thought about what had happened in my 200 free and I got a sudden burst of energy. I put my head down and finished as hard as I could."
Austin won the event with a time of 58.45 seconds, beating her opponent by almost a full second.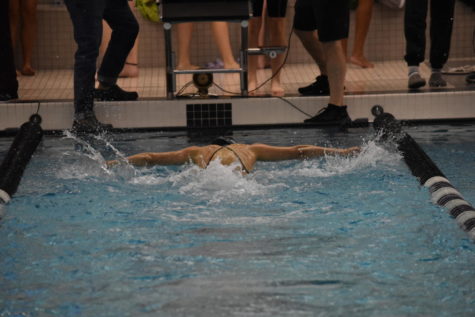 The Groves swim program hasn't seen major success since winning four straight state championships, spanning 2003 to 2006.
"Groves has kind of lost our culture with swim and dive. In the 2000s we were winning states, and events similar to that. Since Coach Danny came in he has done a great job transforming this team into what it once was. We are working hard as captains to make sure the program is in good hands for the future," Austin said.
Karen and the girls' swim team finished third in the state in 2019, their best since the 2000s. Following their 2019 placement, coach Danny Torriglia joined the girl's team in 2020. Torriglia chose Austin to be a captain for the 2021 season and often praises Austin for her enriching leadership skills.
"She's someone whom everyone can model themselves after, she's always giving 110% regardless of what's going on or how bad of a day she had," Torriglia said. "It has a really big effect, especially on the younger kids. We've seen some younger girls who've been working with her really step up because she's always pushing to be better."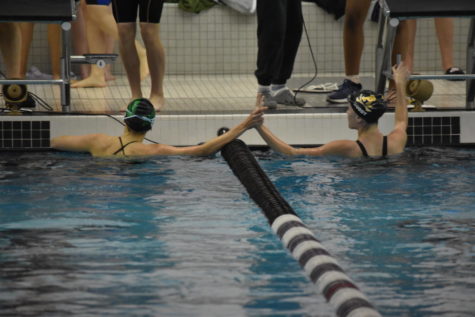 One younger teammate Karen impacted was freshman Ally O'Brien.
"Karen has mentored our teammates and me in so many ways this year. She motivates me in practice and pushes me to work harder when I'm tired," O'Brien said. "She always has a positive attitude and is one of the hardest workers I know. She practices on days the Groves team doesn't even have practice. I know a lot of girls, like myself, look up to her as a role model and a swimmer they want to become."
Austin's mentoring helped O'Brien to get four state cuts as a freshman. O'Brien got state cuts for the 200 IM, 100 fly, 100 free, and 50 free.
"We usually have about one freshman get a state cut each year, but it is very impressive for someone to come in and get four cuts as early as Ally did," Torriglia said. "Coming into the season, Karen took her under her wing. She got Ally through the grind at the beginning of the season. and they've both swam great. They kind of feed off of each other's energy. It's almost like a passing of the torch between Karen and the other captains on to Ally."
Austin and O'Brien both participated in the Groves relay teams for the 200 free and 400 free which both took second place at leagues on November 5. Their contributions helped Groves score 490 points for the overall scoring of the meet.
"Last year we got 4th in leagues, and this year we got 2nd, which is the best in my time here. As a team we scored about 200 more points than last year, so we are trending in the right direction," Austin said.
Austin earned state cuts for all eight individual swim events: 50 free, 100 free, 200 free, 500 free, 100 fly, 100 back, 100 breast, and 200 IM.
"This really shows how good of an all-around swimmer she is," Torriglia said. "She has goals to win the 500 free and get top two in the 200 IM at states. As a team, we have a goal to finish in the top four"
Austin ended up placing 2nd with an OAA (Oakland Activities Association) and school-record time of 4:56 in the 500 free and 6th in the 200 IM with a time of 2:06. Both the Groves 200 free and 400 free relay teams finished in the top eight. Groves finished 5th overall at the state meet on November 20.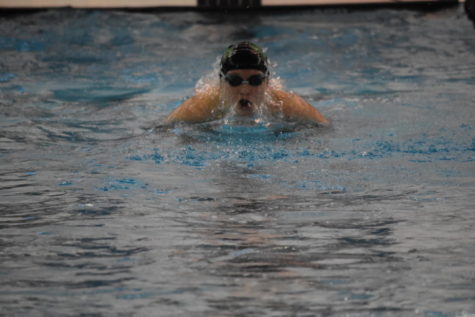 "I felt great about my individual performance, to get the OAA record and break my old team record again means the world. I see my name next to other names on the OAA record board like Annie Lazor [Olympic swimmer] and it's a pretty cool feeling to be up there," Austin said. "The team had some ups and downs but we stuck together. It wasn't necessarily the finish we wanted to get but it was still good, I'm very proud of what we accomplished this year."
Leave a Comment
Donate to The Groves Scriptor
Your donation will support the student journalists of Wylie E. Groves High School. Your contribution will allow us to purchase equipment and cover our annual website hosting costs.