Madison Beer concert review
Sweat trickled down my back as I stood plastered to the girl in front of me in the small main room of St. Andrews hall, waiting for the cheesy pop tunes to cease and the lights to dim.
I bought tickets to see Madison Beer with my friend Tessa Trivax two weeks before the concert and had been counting down the days until she arrived in Detroit as a part of her very first national tour. Madison Beer is known for her beauty and her large social media presence, many, however, don't know that Beer has been singing since she was a baby and got scouted by Justin Bieber's manager at only thirteen years old. Since then, she has made many singles, such as Dead, Home With You, and Hurts Like Hell, all of which have been top on the iTunes charts and have brought her great fame. Her first album, Life Support, was a smash hit and eventually led to her debut tour. Beers' opening act, Maggie Lindeman, was just as talented and entertaining as Beer which I appreciated. Lindeman has a grunge rock sound with an amazing band and catchy tune. My favorite part about the performance was her outfit, which consisted of a black corset top with a black mini skirt and knee-high black platform boots.
Lindeman began her set with "Knife Under My Pillow," followed by "Scissorhands," "Crash and Burn," "how could you do this to me," "Loner," "Love Songs," "Different," "It's Not Your Fault," and lastly her most famous song, "She Knows It." Her setlist was a mix of alternative, pop, rock, and punk, making for a refreshing and entertaining performance. Lindeman was also a fun and exciting performer, and she frequently interacted with the audience before each song. She'd repeatedly yell "pump up" to the crowd, and we would erupt with cheers each time. Lindeman also interacted with her band, she would walk up and dance with her drummer or mouth words to them, I loved her sweet but intense personality as she would start off soft and build to a powerful belt. Each song made the audience roar with praise. She was super high energy, and even though most people didn't know her songs, they were easy to dance to and catchy enough to know the words by the second chorus. At the end of her set, she thanked the audience for being so energetic and introduced Madison Beer, who would come on shortly after Lindeman.
Not long after Beer took the stage, the lights dimmed as the intro to her first song on her "Life Support" album played through the venue. She originally chose this title after being diagnosed with borderline personality disorder as well as struggling with depression and suicidal thoughts and has said in multiple interviews how she is super in touch with her emotions and working on being more stable in her love life. This message truly shines through in her album as many of the lyrics and songs show just how desperate for love Beer is and some of her mental struggles. In her first song, "The Beginning" she has visuals of her face flashing in the background projector; she then walks out with two background dancers. She had a few outfit changes throughout the entire concert. Her style is very "babydoll-Esque" She even performs in socks to appear more doll-like. Her first outfit was a black corset dress with white ruffles.

Video by Blair Chernow
I took this small snippet at her concert on November 11, 2021. Here, Beer sings part of her song "Good in Goodbye" which was one of her most popular songs on the album. She looks angelic in her very first outfit of the night, a small black dress with white ruffles, and satin gloves.
Her next song, "Baby," was a crowd-pleaser, and everyone screamed each lyric with Beer. Baby starts off with a harp-Esque beat in the background and as Beer begins singing the lyrics there are overlapping vocals in the background which add some dimension to the song. The song is very upbeat and sexy in a way, it has very seductive and sweet lyrics as well as certain beats to emphasize some lyrics she is singing. There is a certain point in the song where the beat slows and develops as Beer sings, it is then followed by the chorus again bringing it back to the edgy and seductively, saccharine beat. Following "Baby," Beer sang her hit "Good in Goodbye." which starts off with light piano and then immediately brings Beer singing her lyrics strongly and proudly. This is the optime of a breakup song as her lyrics are incredibly clever and sassy. For example, she sings, "You put the "over" in lover, put the "ex" in next," "ain't no "I" in trouble just the "u" since we met," "Cause you're toxic, boy, I ain't even gotta try to find the G-O-O-D in goodbye," this then repeats with the edgy and dark beat behind the lyrics. She adds whisper tones, and belts throughout the song to flex her vocals which are even better in person than pre-recorded.
Next Beer sings "Stay Numb and Carry on." which begins with a mumbling, scratchy, beat and then flows directly into the chorus of the song. It has strong drum beats in the background with small chimes, to add to high notes, which then develop into the light and airy tone of the chorus which gives a lighter tone to the otherwise strongly beat song. Beer then had another outfit change a yellow babydoll dress with charms and a tutu skirt, paired with her frilly white socks, yellow hair ribbon, and matching silk white and yellow gloves.

Video by Blair Chernow
Beer sings her single "Reckless" which was released separately from her album but became just as popular. Beer is in her second outfit of the night, a small pageant-Esque, soft yellow corset dress with charms, and white satin gloves
Beer sang "Emotional Bruises," which begins with someone writing on a piece of paper and then a ripping of the paper sound, which carries throughout the song. She has strong beats to add to her every other word. This is one of her most vocally challenging songs and also happens to be my favorite on the album. The lyrics are incredibly clever, as she slowly counts down where she says, " This is the fifth time ive taken you back," "its the fourth time that we've relapsed," "its the third second chance that ive given you," and "for the first time, let this be the last." I think this is one of the most emotional songs for Beer as she sings about a messy, toxic, breakup she had and the lyrics really correspond with her feelings.
"Reckless," is actually not on her album but she adds it to the setlist because of its popularity. This song is the most emotional of Beer's songs. It has a sort of emotional beat, I was sobbing during her performance of this song. For me, it was her stage presence during this song, you can truly see how emotional Beer was, she held her hand over her heart and constantly took deep breaths throughout the performance. It was so refreshing to see her convey some really true emotions. Everyone in the audience was either crying or chanting the lyrics. Beer walked around and grabbed the crowd's hands and even pointed to a lot of us. This was a slower, more intimate part of the concert and truly was amazing to watch.
"Homesick," I wasn't super familiar with this song originally so when she began performing it I was absolutely mesmerized. This song has a strong guitar playing in the back, and her tone is very soft and effortless as she sings this song with some small melodies of her in the back. This song was really interesting because she talks about her family and her home, hence the title.
"Stained Glass," I also didn't really know this song either but, it has a more strong drum beat with some slow pauses in between lyrics and sort of an eerie tune behind her vocals. It then develops into a similar light beat that builds much like her other songs. I enjoy this song but it went pretty quickly.
"effortlessly," this song is definitely darker and quieter, while she was performing this she was sort of walking around and sitting, then standing, this song was also sort of a filler for me in a sense. It didn't leave much of an impact, I liked a lot of her other songs much better.
Her performance of her most famous song, "Selfish" absolutely did not disappoint, she was incredibly emotional during this song as well, and every single person in the audience was screaming the lyrics. Beer looked like she was absolutely living on the stage as we all chanted the lyrics to her. She looked awestruck by the fact we had all known the lyrics This was really cool to see her have a sort of "I made it" moment. This song also has a beautiful rift and her vocals were incredibly strong and enchanting.

Video by Tessa Trivax
Beer sings the end of her hit "BOYSHIT" with the help of the audience.
She then had her final outfit change into a small pink dress with yellow and white daisies, matching light pink gloves, and a matching pink hair-bow. Beer then sang one of my other favorite songs, "Blue," which starts with a slower beat with some electric guitar and then builds as she sings, up until a beat drop where she has background vocals sort of "static" which then hits a major crack in the beat and develops with an electric sort of song. Next Beer sang "Sour Times," which was one of my favorites on the album. It has a faded, pulsing beat in the background with her soft wispy vocals. She had super cool backgrounds; they were colorful and pixelated as entertaining. The next song Beer sang "Dear Society," served as another filler for me. It wasn't super memorable mainly because it has a similar sound to her other songs and is slower. Her next song "BOYSHIT" is my absolute favorite song "BOYSHIT" which begins with a heavy sort of fanfare beats, and then her sassy and sort of fast-paced singing comes in to build to the chorus as the beat drops. She danced a lot to this song and really performed with her dancers, as well as interacted with the audience and even took someone's phone and started posing for a video on their phone. The whole audience was jumping and dancing as this beat is super catchy.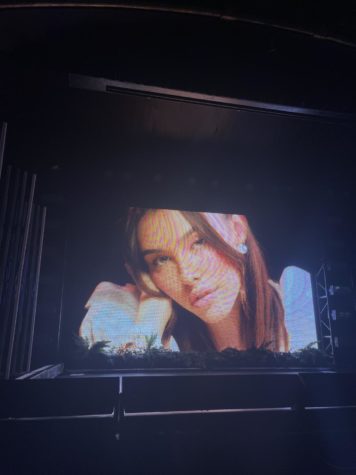 This is my favorite part of the whole concert where Beer had the background projector play a small video of her speaking into the camera as she knocks multiple times which looks like she is doing it on the actual camera lens, and then says "Has anyone seen a…. White Rabbit?" and the whole crowd went crazy as her next song "Follow The White Rabbit" blasted through the venue. This song starts off with a low strumming of an electric guitar and then has Beer's lower, more deep vocals play. This has sort of a haunting but edgy tone to it. It sort of gives me a "the villain walking away from his destruction" vibe. It has many powerful beats that emphasize her lyrics and tone. Beer turned from upbeat to more seductive and bold during this song as she pranced along the stage with her dancers. Her very last song "Everything Happens for a reason" begins with birds chirping and a sort of soft guitar strumming beat.
At the very end of the performance pink confetti was shot all over the hall and the crowd went crazy. Beer did her final bows and even climbed up onto one of the banisters and serenaded the audience. (insert pic and vid) The concert was one of my favorite experiences and I am so incredibly excited for what else Beer has in store for her fans on her next album. I know I will be buying my tickets the minute they drop.
Leave a Comment
Donate to The Groves Scriptor
Your donation will support the student journalists of Wylie E. Groves High School. Your contribution will allow us to purchase equipment and cover our annual website hosting costs.