Groves boys swim team battles waves of fatigue as the season comes to a close
Wins, wins, and more wins.
This is just how the Groves boys swim team started their season. A fresh start gave the team life. Earning three outright wins and a second-place finish in a tri-meet.
The team's leadership, including senior Captain Jackson Zako, felt proud of the work ethic of the team as a whole.
"During our first meet, we were very impressed with the team. It stood out how we held ourselves, how we competed, and how we were doing all of the little things right," Zako said.
Moving into the middle part of the season, the team began to slow down. Last season, Groves didn't begin training until January 15 due to COVID19. At this time, Zako noticed that the team was more exhausted than they should have been in the middle of the season.
"Adjusting to having the longer season this year has been difficult, but I think it's definitely going to pay off at the end of the year," Zako said.
Groves earned their first second-place finish in their first non-dual meet of the season on December 16. Stoney Creek took first place. The Emerald Tide placed first in ten of the twelve events. But, they couldn't scoop up enough second and third-place finishes to seal the deal. While the top Groves swimmers swam exceptionally, the team needed more swimmers to step up into scoring positions.
Following the streak of fatigue, The Emerald Tide was back to work. The week following Christmas, dubbed "Hell Week", the team was in the pool from 8:00 AM to 11:00 AM and 2:30 PM to 4:30 PM Monday through Thursday.
"We had a pretty brutal 'Hell Week'. I think having those two a day practices where we would lift and swim in the morning, and then swim in the afternoon, again, has prepared us to have these stretches where, you know, we're going to be tired, and we're not going to have much rest in between races, but, we still have to put up times and perform," Zako said.
Following "Hell Week", the Emerald Tide was right back to competing. They took down Troy High School 115 to 68 on January 6.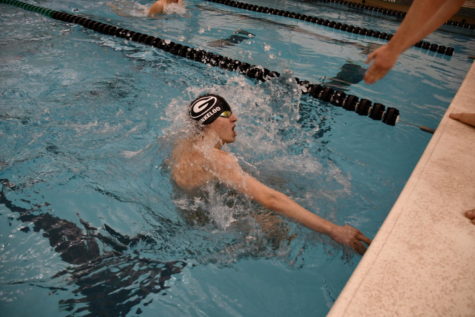 Great guidance has come from captains and seniors on the team. Senior captain Nolan Lamphere believes the team relies on captains and leaders to set a positive example for the rest of the team.
"As captains we lead in the locker room and on the pool deck, often directing practice, helping the underclassmen with what we're doing in practice, or how to go about a meet," Lamphere said. "In the locker room, we always get them hyped up before meets. Most importantly, everyone gets along with each other to keep the team chemistry high."
Although senior Joey Gallagher isn't a captain, he has motivated his teammates to be the best they can be.
"Joey trains really hard. I can tell he really wants to get better because it shows. Every meet, I see him do something better than he did the last week," Zako said. "It is really motivating to be swimming with him."
Gallagher had just as positive things to say about Zako.
"He has made a huge impact on my life. He is a great leader," Gallagher said. "I love the way he demands the team to do exactly what he wants them to do. He knows how to get things done. I can always approach him and count on him.".
After a meet against Troy, Groves battled with Grosse Pointe South on January 8. Grosse Pointe South finished just barely on top, 95 to 91. Both teams were tied for first and second-place finishes. Grosse Pointe South finished the meet with 6 first, 6 second, and 7 third-place finishes, while Groves had 6 first, 6 second, and 5 third-place finishes.
Lamphere believes the loss to Grosse Pointe South has both positive and negative effects.
"I think that this result was kind of a wake-up call. We went into the beginning of the season facing a lot of teams that we felt pretty confident about beating," Lamphere said. "We only lost by four points to Grosse Pointe South. Not only was it a wake-up call, like not every team is beatable and we're not invincible, but also the fact that there was such a small point differential meant that a one place difference in a race could be the difference between winning and losing the meet. We need to take this opportunity and realize that if we want to beat them in the postseason, we're going to have to get even better."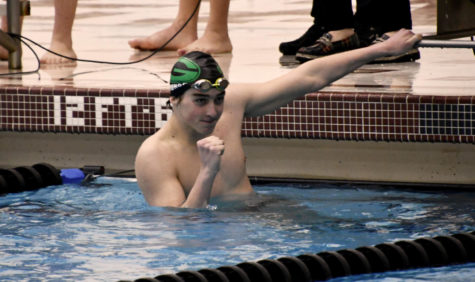 Following the loss to Grosse Pointe South, the team was right onto the next verses Rochester Adams on January 13 and Rochester High School on January 20. Groves won both meets.
After placing second in a quad-meet with Skyline, Brother Rice, and University of Detroit Jesuit, the Emerald Tide headed down the road to face cross-town rival Seaholm on January 25. Seaholm defeated Groves 95 to 88.
Groves head coach Ricky Forest has faced Seaholm many times in his six years as head coach.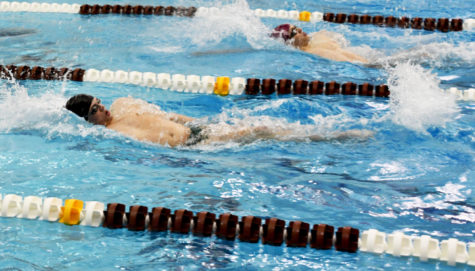 "I knew it was going to be a really close meet, and almost a flip of a coin with a lot of these races. Sometimes you can predict what's going to happen and sometimes you can't, which makes it exciting," Forest said.
This rivalry meet meant more than marking a win on Groves's record.
"We've been talking about this all year. We've had it circled on our calendars. We really didn't have to say much before the meet. Our team knows the importance of this meet and they know what this rivalry means," Zako said.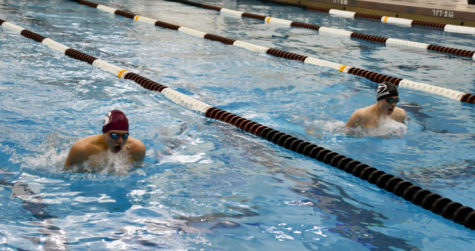 Despite their loss, Groves used the outcome of this meet as motivation.
"Our swimmers rose to the occasion. That's one cool thing about a rivalry. It brings out the best of both teams. To see their hard work progress in the correct direction is great, but towards the end of the year, our individual goals and what we want to do as a team is what matters most to us as the Emerald Tide," Forest said.
The energy quickly plateaued as the boys lost to Grosse Pointe South, placed second in a quad-meet, and lost to Seaholm. But, momentum was revived in the Oakland County meet with thirty teams on February 4-5. Groves placed second for the first time in over ten years, just 5 points behind Stoney Creek. Seaholm placed 5 at the County meet, 26 points behind Groves.
Forest does not have his swimmers suit up in technical suits, while other teams, Grosse Pointe South included, wear them for the County Meet. He only has his swimmers suit up for Regionals and States.
"Before the meet, we stuck to the same routine. Our guys have been going with a consistent schedule all season long," Forest said. "I told them that it is just another opportunity to race. Everyone had someone to compete against. With thirty teams there, it was really cool to see."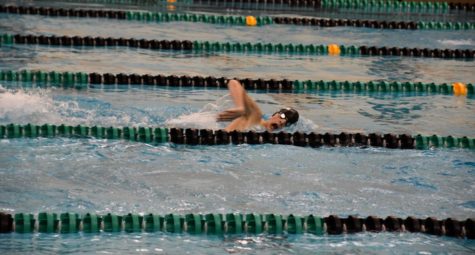 In the 400 free relay in Groves's dual meet versus Seaholm, the Emerald Tide had lost to the Maples by 1.05 seconds in the race for first place. But, in the 400 free relay at the County Meet, Groves outpaced Seaholm for first place by 0.91 seconds.
"After losing to Seaholm, we obviously wanted to beat them really badly. Beating them in the 200 free relay gave us that momentum we needed. We knew we really had to go in and beat them," Zako said.
Forest didn't want to make any major changes before the County meet.
"It was mostly an attitude thing. We didn't want to feel like that again. We didn't want to feel like we were so close, but came up short," Zako said.
After racing Seaholm three times this season, Groves will meet them again at the League meet and State meet.
"It is going to be a dogfight facing these guys the next couple of times, in the league meet and state meet. It is always fun because they bring out the best of us every single time," Forest said.
While the Emerald Tide's season has had its ups and downs, the team is ready for Championship season.
"I think If we stay on this track with our training and we keep putting up good times," Forest said, "I think by the time states rolls around, we'll have a good squad together and we'll be able to make a run for the title."
Leave a Comment
Donate to The Groves Scriptor
Your donation will support the student journalists of Wylie E. Groves High School. Your contribution will allow us to purchase equipment and cover our annual website hosting costs.