It's Pronounced Vis-ta, not Vee-sta
It's that time of the year again, when smiles are spread and pockets are emptied— Charity Week, a fan favorite at Groves High School. The Groves Student Congress organizes activities to raise money to donate to different charities every year. They decide which charity the school donates to by allowing students to come to a vote. Sophomore Talia Kamoo, is a GSC president who works on the front line to make Charity Week run smoothly.
"GSC holds a charity fair where we reach out to multiple charities and ask them to come set up a display in the school for students to walk around and vote on their favorite," Kamoo said. "The student population gets the opportunity to have a say on which charity they want to support."
Charity Week events motivate students to come to school and raise funds for a good cause. This year, all of the savings are being donated to Vista Maria, an organization that provides mental health services, foster care, and adoption. Vista Maria advocates for human trafficking victims and looks to help women and children gain stronger independence. Chief department officer Mary Vogt witnesses the acts of Vista Maria firsthand.
"Our focus is on healing the child and the entire family. Our team members are highly trained, trauma-informed, and use evidence-based practices to inform our programs," Vogt said. "Additionally, Vista Maria recently joined forces with Michigan Abolitionist Project (MAP) to further our shared vision to eradicate human trafficking through advocacy, training and survivor-centered treatment."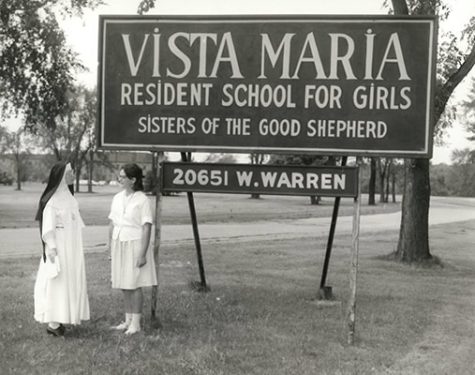 Each year, Vista Maria helps over 400 children and families. Their journey first started in 1883 during the Industrial Revolution, when five Sisters of the Good Shepard Church came to downtown Detroit in search of a new home. Thousands of young girls and women were treated like they were forgotten, living and working in terrible conditions.
By the next century, almost 33 Sisters cared for over 200 girls. The House of Good Shepard continued to grow and expand for the next 30 years. Due to the increase of girls, a more extensive facility was needed. The Ford family reached out and met with the Sisters to fix their space issue. The wealthy family deeded the Sisters 50 acres of land and promised to renovate the new facility to fit the girls' needs. The House of Good Shepard reopened with the new name of Vista Maria on December 8, 1942. Today, Vista Maria is nearly 140 years old.
"The future is bright for Vista Maria,"  Vogt said. "One of our most recent program initiatives is the creation and implementation of the Family Engagement Model to support the youth and families in our programs. Our goal is to reunify each youth with family, whether it be biological, foster, adoptive, or chosen, and to provide them with the tools and resources for lasting permanency and success."
Vista Maria's campus is also going through changes: it will become a hub for family-focused activities with multiple spaces to promote family bonding and healing.
"Our wish is that every child feels safe, supported, and loved by family," Vogt said. "Where there is a sense of love, there is hope and then there is healing."
At the Charity Week assembly, Vista Maria directors and volunteers greatly appreciated Groves for making a generous donation. In the many years to come, Groves will continue to help make a difference by using Charity Week to donate to amazing organizations such as Vista Maria.

Leave a Comment
Donate to The Groves Scriptor
Your donation will support the student journalists of Wylie E. Groves High School. Your contribution will allow us to purchase equipment and cover our annual website hosting costs.
About the Contributor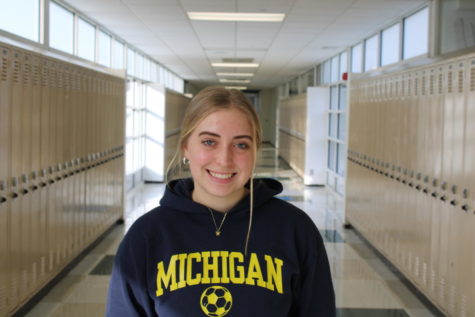 Maggie Locricchio, Reporter
An avid soccer player and swimmer for Groves, reporter Maggie Locricchio finds her passion not only in her extracurriculars and spending time with her...