Girls Varsity Basketball team works for the W
Underdogs— also known as the athletes with some of the greatest stories of our time. How does one team prepare for a challenge? How does a player walk into a game knowing fate is not on their side? Groves' girls varsity basketball team started their season off strong with only one loss in their first away game against Novi High School. Groves defeated Livonia and Seaholm High School, leaving them with an early two-and-one record.
But that all changed this week as the girls battled it out against Hartland High School on Tuesday, December 13 and West Bloomfield High School on Friday, December 16.
West Bloomfield High School beat Groves in the regular season last year and then again in the district's game, making them advance to the state championship. Hartland High School was missing from the Groves game schedule last year, but they too made it to the state championship. The girls will meet Hartland for the first time this Tuesday. According to junior starter, Cira Racco, these next two games will be the team's biggest challenge yet.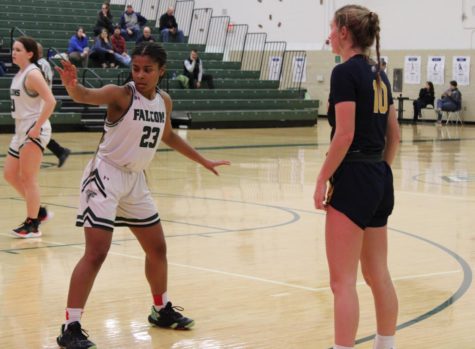 "We don't have the best chances of winning, but we did end up playing West Bloomfield three times last year and each time we played them we got better," Racco said. "It'll be fun to see how we improve, because they have lost a lot of people from last season."
The tip-off on Tuesday was at seven o'clock at the Groves Falcons' home court. Girls on the Hartland team were tall, strong and wearing colorful headbands and stern faces. Everybody in the gym knew game time was approaching when Hartland started their intimidating chants and cheers. Ignoring the first impression, Groves kept their heads and spirits held high.
"Over the weekend, our coach sent us game film. We watched the Hartland vs. West Bloomfield game," Racco said. "We also like to set goals for ourselves. It's really just about trying to see how you can do better. The biggest thing about these games is asking yourself how you can improve. We ask ourselves, even if we don't get many shots off, were the shots we did take still good?"
Groves took many shots throughout the game but weren't fortunate enough to get them to fall in. The final score was 38 to 30, with Groves losing just by eight points. Despite the loss, coach Alison Hadley was very satisfied with her team's performance.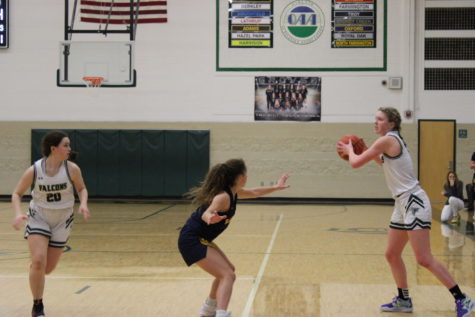 "Obviously the game did not fall in our favor, but we knew it would be tough," Hadley said. "I am happy with our effort. We fought till the end even though we came up short."
With the Hartland High School game in the rearview mirror, the Groves girls could focus and dial into Friday's away game at West Bloomfield, the home of the defending state champions. Racco and Hadley agreed to keep the team's foot on the gas and their mentality positive as they competed against the best.
"It would be really cool to beat them, obviously, but I think more realistically just being able to play competitively with them is our biggest goal right now," Racco said.
"We're going to throw everything but the kitchen sink at West Bloomfield," Hadley said. "They have a very talented team, and I think everyone in the state knows that. Our pep talk to the girls is to have no fear and go out and have fun. On any given night, it's any team's game to get. So all it takes for them is one bad night, and one good night for us. We're going to leave it all out on the floor."
Inside the West Bloomfield gym, you could barely hear the referee's whistle, it was so loud. Parents and students were spread out in the stands. The girls laced their shoes and tightened their ponytails. West Bloomfield came out swinging, hitting shots from every spot on the court. They were physical, fast and light on their feet. Groves put up a good fight, not backing down once.
At the final buzzer, the score was 70 to 41. Groves had lost, as predicted.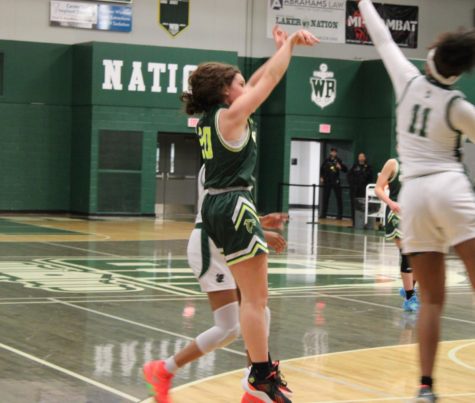 "It's hard to go into games like that, especially when it's a team like West Bloomfield," Coach Hadley said. "We're just trying to be better than ourselves. I thought even tonight when we struggled in some quarters of basketball, we came out in the fourth and we were better than the first half. So we're going to stay focused on those metrics and move the team forward."
Leave a Comment
Donate to The Groves Scriptor
Your donation will support the student journalists of Wylie E. Groves High School. Your contribution will allow us to purchase equipment and cover our annual website hosting costs.
About the Contributor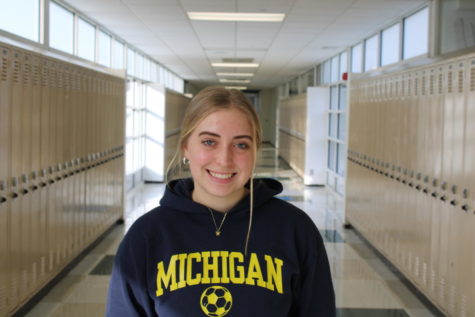 Maggie Locricchio, Reporter
An avid soccer player and swimmer for Groves, reporter Maggie Locricchio finds her passion not only in her extracurriculars and spending time with her...