Trying Pumpkin Treats from Pinterest
As Sweater Weather approaches, there are a few activities that help to really get us in the fall spirit. While watching horror movies or buying fun fall outfits may be popular favorites, I'd argue that everyone enjoys eating treats like powdered donuts or drinking a Starbucks pumpkin spice latte to really help get them into the fall mood. So in honor of the fall season, l chose 3 recipes that anyone could enjoy as a sweet autumn treat. (I also attempted to bake them myself; an amateur baker with barely any experience.) 
The first recipe I made was Pumpkin S'mores cookies.
I followed this recipe from Once Upon a Pumpkin, a recipe blog by Maggie Michalczyk.
To get as many cookies as possible, I doubled the recipe, which gave me around 24 cookies instead of 12.
I was suspicious of how this recipe would turn out because of my lack of knowledge in baking, and because the recipe was gluten and dairy-free, which is something I'm not used to when I occasionally bake.
There was some trial and error when making these cookies, which is definitely my fault for not knowing what I was doing. My 'baking assistant,' who was a family friend and happened to be over while I was making these, informed me that flour is what usually makes cookies… inflate. Due to the small amount of Almond Flour used to make these, we felt iffy about how they would turn out. Well, they turned out to be humongous; so that didn't turn out to be a concern at the end of the day.
As soon as we made the first batch, we let them cool down and I decided it was missing a kick. I could barely taste the pumpkin portion of the cookie, and the overwhelming taste was chocolate chips and the occasional marshmallow. The flavor felt too muted to me, and while I expected it to flow all over my tastebuds, I was struggling to taste anything at all. All Spice was not in this recipe, but I added a teaspoon of it to give more of a pumpkin flavor. Doing this did not entirely fix the problem, but it did help to bring out more of the pumpkin aspect of the cookie.
 These cookies definitely did NOT turn out as pictured. The chocolate chips were hidden and the marshmallows didn't expand as much. They had a pleasant smell that is unlike a cookie I'd smelled before. The cookies expanded in size by almost two cookies. Although there was a lack of appetizing appearance, they tasted more unique than expected. The texture of the cookie was spongy, like a cake, which was surprisingly good. They were so doughy that even after a day, they still felt soft and fragile like I'd just pulled them out of the oven. I assume it was due to the fact that it was a vegan recipe and made differently than the average cookie. In addition, the cookies had a light crisp around the edges. When I bit into the cookie, it felt like my teeth were sinking into a soft pillow of dough. Two fellow Journalism members tried them, rating the cookies a 4 out of 5 and a 5 out of 5. Another person who tried my attempt at the recipe liked it so much that they took multiple cookies.
My personal rating for this recipe would be a 4 out of 5. The reason for this rating is that the taste is very unique and the texture is very enjoyable and unlike most cookies I've had. The recipe was fairly easy to make and I found most of the ingredients at a nearby grocery store. The 's'mores' part of the cookie was pretty bland and had more of a regular chocolate chip and marshmallow taste than a gooey smores-like taste. The most overbearing taste on my tongue was the dough and chocolate; so if you really like those tastes and need a good gluten and dairy-free recipe, I'd say these would be a hit for you.
This recipe does include almond products.
The second recipe I made was Pumpkin Bread. 
The recipe is from Butternut Bakery, a baking blog by Jenna Barnard.
The Pumpkin Bread was a hit on Pinterest with 5 stars, 79 ratings, and 31 comments all saying how amazing this bread was.
The recipe was a breeze to make – the instructions were not complicated in the slightest and following them was easy. The preparation took no more than 30 minutes, while the actual baking took an hour.
The bread was very soft as it was an oil-based recipe, and the streusel topping helped balance out the texture. The consistency reminds me of Starbucks' Banana Nut Bread. It was decently soft and had a crunch due to the streusel. I took the bread to my journalism class – 7 girls tried it and the average rating was 4.6, which is pretty good in my opinion. If someone more experienced made this who knew tips and tricks on how to make it better, I'm sure that 4.6 could've been somewhat higher. One family member also got to try the bread and they enjoyed it so much that they begged for the recipe! One criticism of the bread was that the streusel was a little too sugary and sweet, but other than that this bread is nearly perfect.
My personal opinion on this recipe is 4.5 out of 5. The bread itself was moist and had a near-perfect consistency. However, the streusel was questionable. The crispy streusel, as mentioned before, was a bit overwhelming in sweetness.  The bread was very airy and lightweight but still filling. I think without the streusel, this recipe could without doubt be 5 stars and it is something I would make in the future.
The third recipe is an absolute fan favorite, especially when it comes from Starbucks. The third and final recipe is a Pumpkin Cold Foam coffee.
This recipe is from Barefoot in the Pines, a recipe blog by Michelle Morey.
This recipe is a must-do if you enjoy the Pumpkin Cold Foam Coffee from Starbucks. If that is one of your highlights of the Autumn weather, this recipe is a perfect way to be able to enjoy it year-round–in fact, some said it was even better than the one from Starbucks!
The recipe was very very simple and easy to make. If someone had made it multiple times and had memorized the instructions, I doubt it would take more than 15 minutes. 
Despite the fact that I put 3 tablespoons of pumpkin pie spice instead of 3 teaspoons, (Oops!)
The spice wasn't overpowering or too much.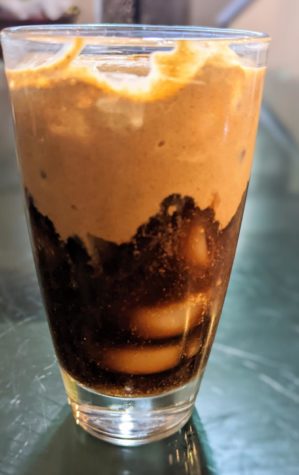 Since I'm not much of a coffee drinker, I didn't really have a strong personal opinion on the recipe. To get more opinions on the coffee, I had family members try it. One rated it a 4.5 out of 5 and the other a 5. Neither of them are cold-brew coffee fans, but they still rated this recipe very highly. 
That concludes this beginner baker trying Pinterest Fall treats. Everything was incredible to try and I definitely will be making these in the near future and the next Autumn's to come!
All of these recipes were absolutely wonderful and it was a pleasure to be able to try them – Credits to Maggie Michalczyk, Jenna Barnard, and Michelle Morey. 
Leave a Comment
Donate to The Groves Scriptor
Your donation will support the student journalists of Wylie E. Groves High School. Your contribution will allow us to purchase equipment and cover our annual website hosting costs.