Upcoming athletic renovations will better Groves community
The largest change in athletic facilities since the school's opening has begun.
Passed by the Birmingham community on March 10 BPS secured a bond of $195 million dollars toward renovations for the school district. Groves was given $50 million for athletic renovations.
Football coach Brendan Flaherty said these new renovations will be ideal for the whole community.
"That's not just a football thing, it's all sports. Everyone will share the new facilities, and it will help everyone," Flaherty said.
After years of having to accommodate larger sports teams into small and inconvenient spaces, a unified and larger building is being constructed to house an array of extracurriculars.
"The [team] building will be the main place for all of the meetings, from football, to track, and even the band if they are meeting out there, all have access," Flaherty said.
Flaherty further describes how the new team building will provide security for both teams.
"Before we had to go in the maintenance shed or on one side of the field or one team had to come all the way inside the school. That takes time away, but it is also less safe. We are going through a parking lot where cars are dodging in and out. Three years ago, in the playoffs, Brother Rice people surrounded us and agitated us, parents were heckling us," Flaherty said.
The locker rooms in the team building will provide a private and secure place for teams to meet.
Football kicker and junior men's soccer captain Mori Miller expresses his excitement over the development of private locker rooms.
"We didn't have any locker rooms. We'd just get to the field and put our stuff down on the sideline. I think we deserve more than that," Miller said.
The team building will have home and away locker rooms as well as a team meeting room that can seat up to 100 people. The district hopes to complete the building by August 1 although worldwide shipping delays could affect this due date.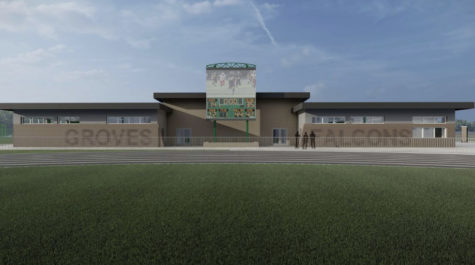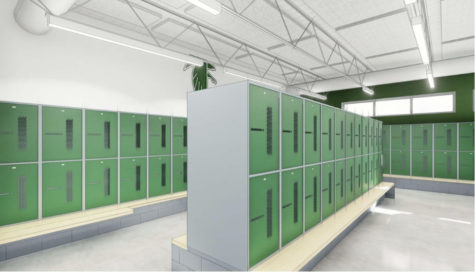 Along with the team building, Groves will add a second turf field to be used for soccer and football practice, fixing a conflict between the football and soccer teams over practice space.
"This past year there were a lot of days where football would practice after school, and soccer would have to practice later at night, like 8-10pm," Miller said.
Coach Flaherty pointed out another pro to this new addition.
"The grass won't get beat up like it used to, and we'll have uprights for kicking, so we could run a full practice out there," Flaherty said.
Flaherty admits there won't be a built in scoreboard, but the field will be regulation size and conveniently placed for all players. The stadium restrooms will be fully redone.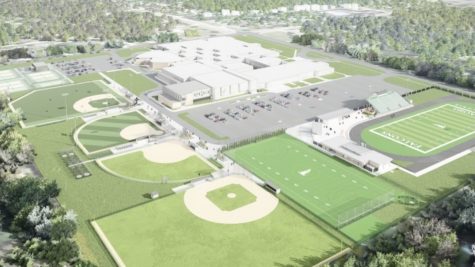 Refurbished restrooms will accommodate all falcons. Flaherty addressed the ableism built into the old restrooms.
"They weren't handicap accessible. There were three urinals and one toilet. The toilet wasn't even handicap accessible," Flaherty said.
Miller witnessed a clear difference between Grove's stadium bathrooms and other schools' bathrooms during away games.
"The old [stadium bathrooms] had a really old fashioned feel and were very run down. It just wasn't what it should be. It's just not what you're looking for compared to other schools with nice, private facilities, " Miller said.
Miller felt inconvenienced using the same bathrooms as the general public when he was playing. Having to maneuver around the narrow corners while wearing bulky padding didn't help.
Junior baseball center fielder and soccer defender Matthew Meilinger mentioned another inconvenience of the bathrooms.
"We have to use the stadium bathrooms for baseball, so, if you want to go to the bathroom right before a game or during a game between innings you can't, it takes 10-15 minutes to go to the bathrooms," Meilinger said.
Along with new stadium bathrooms, new bathrooms will be developed near the tennis courts, helping both tennis players and baseball players use the restroom without having to walk half a mile to the run-down stadium bathrooms.
"Having bathrooms close to the new field by the tennis courts will save a lot of time for us during games and practices," Meilinger said.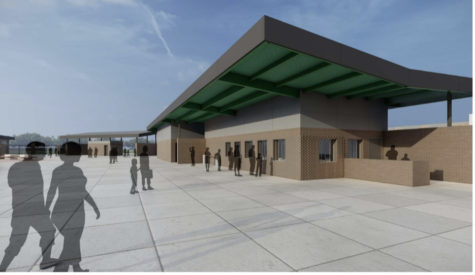 As with the stadium bathrooms, the baseball field needed to be improved as well, but for more serious reasons. Meilinger described the dangers of playing on an outdated field mixed with Michigan's harsh weather.
"We've had around ten games canceled this season due to weather," Meilinger said. "There's also definitely some ditches I have to be careful about in the outfield. Bad hops are an issue a lot too. The ball can bounce in any direction sometimes, and it can really screw up the game," Meilinger said.
Turf assures a consistent playing field and removes the risk of players rolling their ankles.
Baseball coach Shawn Morrison added that the turf will increase the amount of playing time for all players.
"The nice thing about turf is, if it stops raining, we can play like 15 minutes later. So that's the biggest thing for us being a Michigan baseball program," Morrison said. "A combination of turf and lights will really help us accommodate bad weather, particularly in late March and early April." Once the indoor batting cages and auxiliary gym are completed, the team will have an opportunity to practice longer into the year.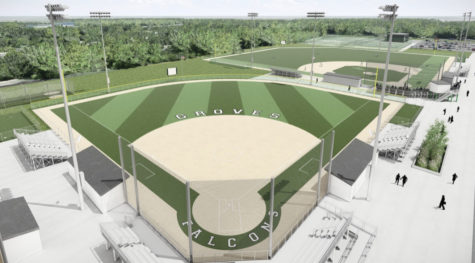 "We'll be able to do off-season pitching. Right now we have to just find random halls or gym space at really inopportune times," Morrison said. "I also think that the aesthetics of the place are going to make people want to come here and play. I just think our field is going to have a lot of character."
$50 million will be spent on Groves' new facilities, and Flynn also predicts it will have a positive impact. New football stadium bleachers were installed last October to make room for future Falcons.
"When it's all said and done we are going to have one of the best sports complexes in the area, Flynn said, "the goal is to rival the schools like Detroit Country Day and Brother Rice to keep kids here instead of them going to private schools."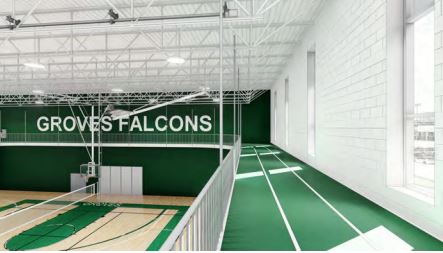 Leave a Comment
Donate to The Groves Scriptor
Your donation will support the student journalists of Wylie E. Groves High School. Your contribution will allow us to purchase equipment and cover our annual website hosting costs.
About the Contributor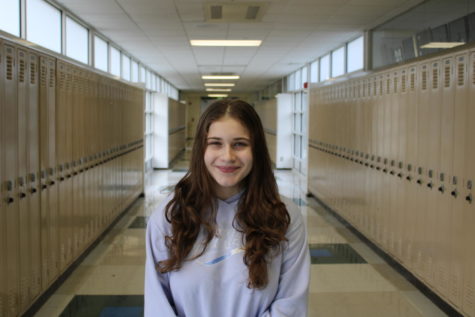 Leah Salzenstein, Editor
Leah Salzenstein, senior, is a managing editor for the Scriptor. She loves to write opinion and new feature pieces. Some of her published articles include...