Humberto Nuno achieves the American Dream with authentic Mexican dishes at Taco Tienda
My habitual visits to Taco Tienda began about three years ago when my dad brought me there for the first time. At first glance, the store/restaurant seems like a cheap place, with the multi-colored Taco Tienda sign and products pushed up against the floor-to-ceiling glass walls. I'm glad we took the time to get past the appearance and discover the true gem of delicious food, culture, and an amazing story of a family achieving the American dream.
I was lucky to be able to interview the man behind my favorite taco, where I got to learn more about the history and culture behind Taco Tienda.
Humberto Nuno, the owner of Taco Tienda, dreamed of bringing his home culture to the states, expressing it with food. He grew up and built a family in Guadalajara, Mexico. In the early 2000s, he decided to pack up his things and head north to chase his dream.
"Opening up a new restaurant has always been a goal for me and my family since we moved to the United States. When we got the opportunity to finally have that dream come true, we wanted it to resemble the flavors from Mexico that are hard to obtain around here," Nuno said.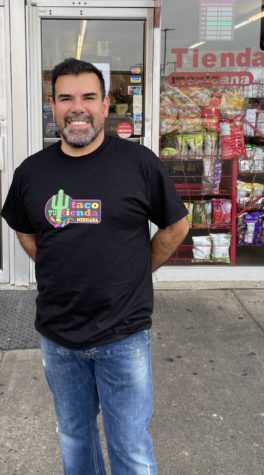 The idea was the easy part. Now Nuno had to execute his plan, so he brought his knowledge of recipes from home and the desire to show southeast Michiganders what he's made of.
"The recipes come from the authentic dishes that my family and I used to eat back in Mexico. Over time, my brother and I have added and taken ingredients out to perfect the taste and freshness," Nuno said.
Nuno kept things true to what he knew and only altered them to improve them and further deepen the authenticity. He wanted to keep everything as close as possible to what he knew from home.
"The menu is very simple and keeps the dishes traditional. Everything is served exactly as it would be if you were in Mexico: tacos on a soft corn tortilla with cilantro and onion on top and radishes and lime on the side," Nuno said.
Another important step was sourcing everything he was going to use, such as ingredients. There's a reason why many people can't pull off good authentic Mexican food in our area. Accessibility to all of these ingredients is very limited.
"Most of our ingredients are transported directly from Mexico or the city of Chicago. With its large population of Latin people, Chicago has many ingredients to offer that are the exact same as the ones in Mexico," Nuno said.
Opening a restaurant is challenging, Nuno said. He poured everything he had into it with little idea how long it would last, much less thrive during a pandemic.
Naturally, Nuno experienced ups and downs.
"The happiest moment while opening the restaurant was being able to decorate, paint and create something that had been in my mind for a long time prior. It brought me a lot of joy to see everything come to life before opening up to the customers," Nuno said.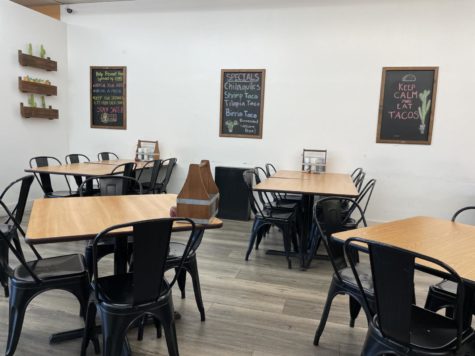 On the other hand, Nuno remembered the early stages of opening his restaurant as difficult. He knew he could offer the most authentic Mexican food, but knew he needed to get the word out about his new establishment.
"The most challenging moment while opening the restaurant was being able to get the news out there on my hidden gem. Advertising and being able to share all the amazing things we could provide was something we were new to," Nuno said.
The Nuno's were lucky enough to find great success in their dream. They started to make a name for themselves. Online recognition is one of the only ways to be successful now, especially with COVID 19's presence for almost two years.
"The happiest memory came after we started getting recognized online and hearing people talk about us. People from all over would come in and share where they got the recommendation. It was an incredible moment to know that we were getting talked about and recommended by many people," Nuno said.
COVID 19 caused a lot of businesses to struggle. A family-owned restaurant often struggles to stay in business, let alone during a global pandemic. The lack of people in the workforce has been present since COVID came to the United States. Nuno knew if he couldn't find good workers, he couldn't run a successful business. Nuno had to overcome these challenges to thrive. Although not easy, Nuno and his family managed to pull through.
"The most challenging part of owning the restaurant has recently been the difficulty of being understaffed and finding new workers. Everyone from our crew has been working together to give the best service and food to the customers while being understaffed," Nuno said. "COVID 19 started affecting us from the beginning when sales went down, workers felt unsafe, and people did not know how to react. Our priority has always been to remain open for our employees and their families during rough times. It was truly scary seeing so many previously successful businesses start shutting down and cutting down workers. Since we were an essential business we never had to shut down and we were able to remain open during the entirety of quarantine."
With the evolvement of technology, the creation of apps such as DoorDash, GrubHub, UberEats, and other online ordering apps helped businesses increase their customer network. Especially during the times of COVID-19, these mobile apps were often the only way that restaurants stayed open. Nuno was able to keep his restaurant afloat during the unpredictable times of the pandemic through the resources of these apps.
"During the tougher times with COVID 19, the store was something that always kept us afloat because it had many necessities for people in those trying times. The restaurant kept afloat thanks to the take-out orders from our online ordering system, DoorDash, and GrubHub," Nuno said.
The cooks are one of the most important aspects of the operation. Keeping organized and efficient while still pushing out quality dishes is very important.
"On a typical day, there are 3-4 line cooks that cook and assemble all of the dishes. One of the biggest stars in the back is the preps that get up early in the morning to cut, cook, and prepare everything fresh for the day," Nuno said.
Nuno's business consists of both a restaurant and a store, bringing authentic Mexican food to its customers. From the delicious tacos to the addicting snacks. The store portion of the business is very unique. It has exclusively traditional Mexican items such as drinks, snacks, and treats. There is also an abundance of the required spices to obtain traditional Mexican flavors in whatever dish you choose to create.
"The top-selling item from the store has to be tortillas, they are a necessity to so many people in the area including me and my family. Along with tortillas, our candy aisle has to be the busiest one with candy shipped directly from Mexico. It's sure to bring you back some good memories, or, if you're new to it, some new delicious tastes. It's always a wonderful thing to be able to know that you are providing people with the ingredients that their childhood meals were cooked with. So many people come in and get their weekly groceries from us which is always something that brings us joy. The store also allows newcomers to give traditional Mexican cooking a try, from pozole to birria tacos we have the ingredients for any traditional Mexican dish," Nuno said.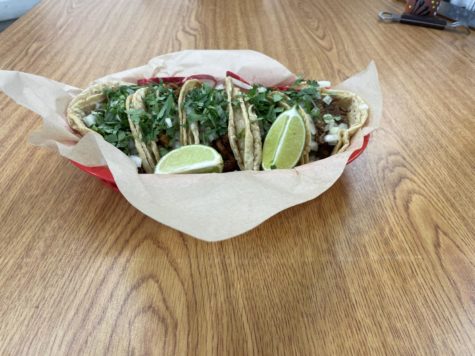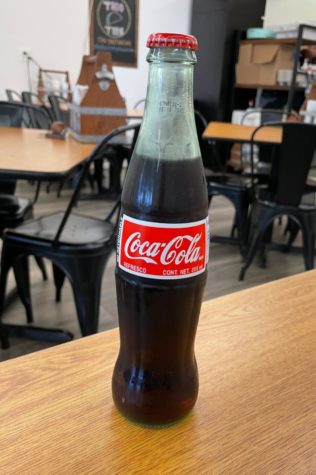 I have been obsessed with Nuno's tacos since the first time my dad and I tried them. Once you walk through the doors, you see that the building is split up into a restaurant on the left side and a small market on the right side. It is colorful, inviting, and filled with amazing aromas. We sat down at what was soon to be our signature spot: halfway between the kitchen and door and against the wall on the opposite side of the market portion of the business. I got two carne asada tacos and one al pastor taco; all street style with cheese. I knew what to expect with the carne asada tacos, but I had never had an al pastor taco up until this point. I ate two carne asada tacos, and I was pleasantly surprised by the flavor and texture. I thought that I knew what a good carne asada taco was until I had these. They were absolutely delicious. Then came the wild card; the al pastor taco. I had no idea what I was getting myself into. The smell was nice and the color was even better. I had high hopes for it. When I took my first bite, I tasted the fresh ingredients and zippy seasoning: the cilantro, onion, and lime perfectly tie it all together. The meat was cut up into small pieces with each piece an orangish-red from the marinade and seasoning. The meat was flavorful with hints of pineapple and Mexican spice. The two corn tortillas were fresh, warm, and glued together with a nice blanket of cheese. This was the perfect taco I had been waiting for for the twelve years I had been on this planet. The chips and salsa, which are normally glazed over in your everyday taco joint, are perfected down to a science. The freshly fried, lightly salted quarters of corn tortillas are the perfect vehicle for the fresh salsa, containing tomatoes, onions, cilantro, and Mexican spices with a little kick at the end. To top it all off, I had a Mexican coca-cola made with real cane sugar and packaged in a glass bottle.
The service couldn't get much better. Even when they are at their busiest, there is still someone there to check on you to make your dining experience as good as it could be. The servers are always friendly and helpful, and the food comes out extremely fast. When you finish eating, you take your ticket that your server gives you up to the one cashier in the store. The restaurant and store being combined allow you to get anything you want, whenever you want. The drinks are in a drink fridge and whenever you need a refill on whatever you choose to have, you just walk right up, select your drink, sit back down to eat, and pay for it when you get your ticket. It is priced well for what you're getting. It is fairly expensive, however, you never feel like you're getting cheated on anything as far as quantity or quality. They do a great job of making sure you get your money's worth.
Not only did Nuno keep his dream and his authentic Mexican restaurant alive during a pandemic, but his food keeps me going back.
Leave a Comment
Donate to The Groves Scriptor
Your donation will support the student journalists of Wylie E. Groves High School. Your contribution will allow us to purchase equipment and cover our annual website hosting costs.
About the Photographer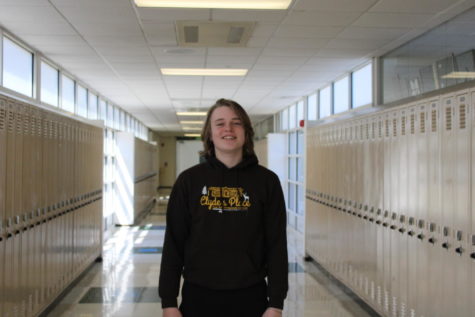 Oliver Cole, Reporter
Oliver Cole is a reporter for The Scriptor. Now a sophomore, Oliver has been a member of The Scriptor since his freshman year. His favorite genre of writing...