Groves boys basketball team overtakes Seaholm 40-38 in cross town rivalry
Tied 38-38, with seven seconds left in the game, Groves junior guard Jack Abbott intercepted a pass intended for Seaholm junior forward Timothy Wilt. Abbott grasped the ball and hustled down the court, leaped up and set the basketball off of the backboard and into the hoop to seal a win for Groves over cross-town rival Seaholm, 40-38 on January 4.
This win was even more impressive to coach Benny White because the team only practiced once in eleven days with more than one-third of players quarantined or out due to injury.
"Because of the Covid-19 cases going around the school and the team, we knew we were going to be rusty," White said.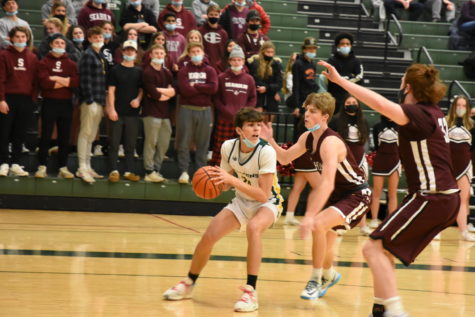 Fans from both teams, including Groves senior R.J. Carrel, brought energy from whistle-to-whistle.
"The game was pretty awesome. Everyone had a lot of energy a
and all of the fans were very engaged during each possession," Carrell said.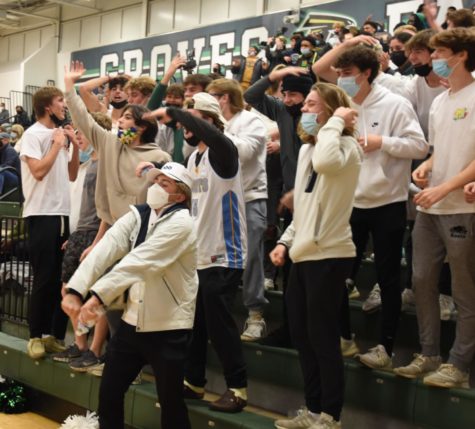 Even though both teams didn't bring their A game according to White, he felt both teams' intense energy.
"Well I think for everybody, rivalry games are big games. I don't think either team played real good basketball tonight," White said.
Though both teams missed multiple shots, White refused to complain about a win.
"I think this challenging game is going to help us because you have to learn, but sometimes it's better to learn while you're winning," White said.
While no one player was the "star" in this defensive battle, Abbott was a key reason for the win, with his clutch steal and game-winning layup. He also added ten of the Falcons forty points. Although to most fans, the game was won in the last seconds by Abbott, Abbott insists the win was a team effort.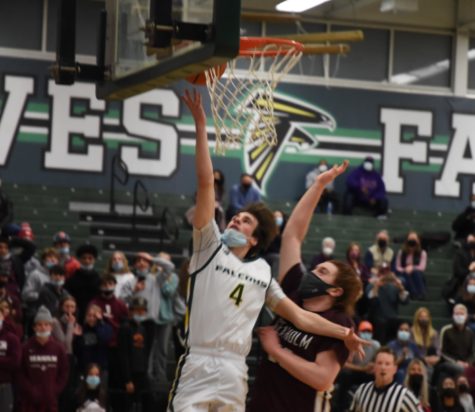 "I mean we just kind of caught fire there at halftime. I knew whoever came out the best after halftime was going to come away with the win," Abbott said.
Groves made halftime adjustments in order to create more scoring opportunities, giving them a slight edge over Seaholm, and that was all they needed to pull out a win.
The game coming down to the wire didn't surprise Abbott in this heated rivalry.
"It was so fun playing this game. Good sportsmanship between Groves and Seaholm and a close game is a regular occurrence for us," Abbott said.
Abbott's mindset about the play in the final seconds was simple.
"I was thinking to myself, 'Don't blow this layup. Hit the square and we go home with the win,'" Abbott said.
Coach White's mentality during the play was virtually identical to Abbott's.
"I was hoping he made the layup. And he did," White said.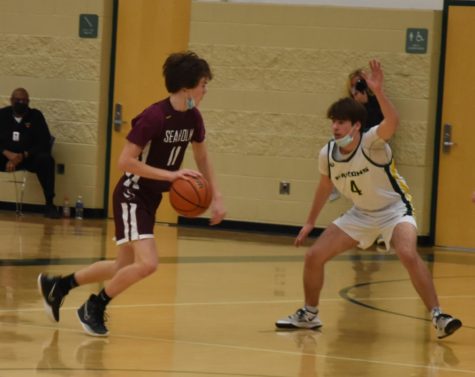 White praised Abbott's work ethic and performance.
"He is a gutsy guy; he works hard, and I'm glad to see his hard work show up and help his team to a victory," White said.
Groves senior forward Quinton Steele added eleven points, eight rebounds, and two assists. Groves junior forward Max Kramer contributed ten points, and senior center Nick Lurz added six points, ten rebounds, and three assists including an energizing slam-dunk.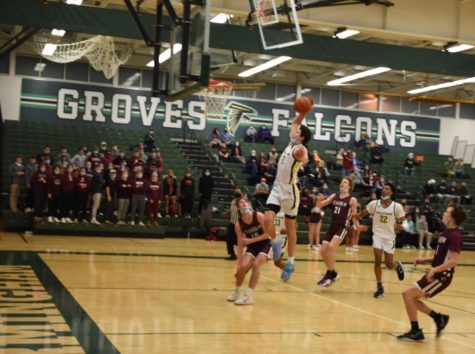 Although Covid-19, took away multiple practices and cases are peaking at Groves and around the community, White wants to get in more practices for more wins, and Coach White is looking forward to getting back to practice to improve on this win.
"Hopefully we can get into practice and work on running new plays and forcing more contested shots," White said. "We plan to continue to build and get better."
Leave a Comment
Donate to The Groves Scriptor
Your donation will support the student journalists of Wylie E. Groves High School. Your contribution will allow us to purchase equipment and cover our annual website hosting costs.