Groves' girls varsity basketball team defeats Seaholm at Little Caesars Arena
The lights were brighter. The crowd was bigger. The cheering was louder.
Everything was amplified as Groves' girls basketball team faced off against Seaholm at the Little Caesars Arena after the Detroit Pistons defeated Miami Heat on December 19.
Seaholm's coach Chris Manchester reached out to Groves' coach Alison Hidey, inviting her to join his team in Court of Dreams, a program where high school basketball teams play each other at Little Caesars Arena.
"Chris could've picked any game to play, and he invited us. I've never done anything like that in my career. I thought it'd be a really cool experience for the girls, especially a rivalry game," Hidey said.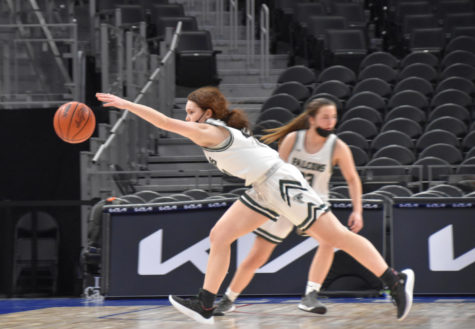 Sophomore shooting guard Cira Racco couldn't wait to play on the same court as Miami Heat's Jimmy Butler, one of her favorite players.
"It will be really cool to play on the same court as him," Racco said. "I'm feeling pretty excited. My family's coming, and I know a lot of my friends are buying tickets. I think a lot of people will be there and the energy will be high."
Senior guard and captain Elsie Meilinger made the first shot of the game, a "catch and shoot" on the right side of the court. Meilinger's first shot excited her teammates and set the stage for an intense game.
"Both teams had a couple of possessions without scoring. Elsie made a shot to score the first basket. Giving her high fives, getting pumped up, and ready to go back on defense was really great," Racco said.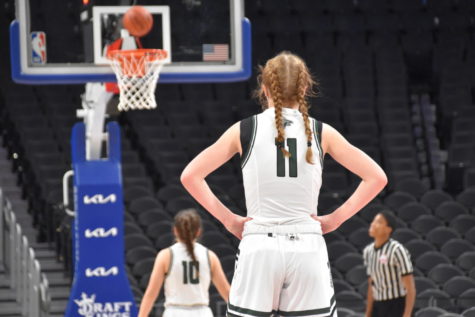 With 3 minutes and 16 seconds left on the clock, Racco sprinted towards the loose ball bouncing down mid-court. Grabbing the ball at the same time, Racco and a Seaholm opponent wrestled for possession.
"They were pressing us. As I jumped up to grab the ball, two girls came down. As we were fighting for the ball, I got slammed to the ground. I closed my eyes for a minute but stood up so I wouldn't get taken out, but I was pulled anyway. Kelly [Salter], the Groves Athletic Trainer checked me out, and I was all good. I was scared that I wasn't gonna go back in because of how concussion protocols work," Racco said.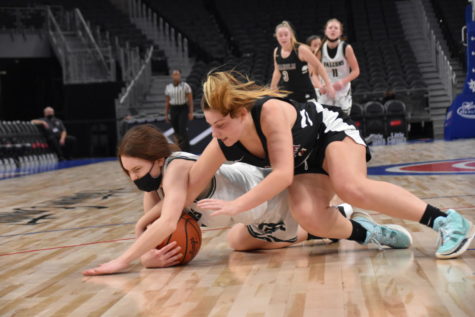 Seeing Racco smack the back of her head on the floor and staying down for a second before getting up concerned her coach. Hidey thought Racco's injury could be serious. Following concussion protocols, Hidey's suspicions were put to the test when Salter evaluated Racco.
"Cira is really tough, and she gets tossed around a lot. We joke about that, but she always gets back up. However, this time it took her a second, so I thought, 'She's hurt'. I didn't want this to be another injury that we have to deal with. We just got our full team back together. She sat up, looked over, and said, 'I'm okay'. If there's any possibility of a concussion, you have to take her out to be evaluated, so that's exactly what we did. We had our trainer, Kelly, make sure there were no signs of a concussion, and Cira was cleared almost immediately to continue playing. We were erring on the side of caution so that we didn't further injure her or hurt her more. I was relieved that it was nothing serious," Hidey said.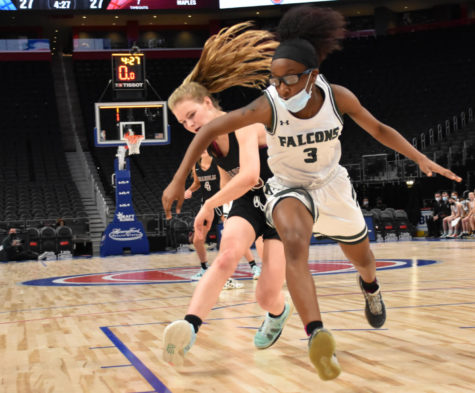 The team leaned on zone defense during games they weren't playing man on man defense well. This game was different.
"Heading into the third quarter, we decided that we were going to go primarily man. From that moment, Seaholm's offense was starting really far out from the three-point line. You know the defensive pressure is up when your offense is way far out, showing that we were on point with our defense. Seeing the girls turn up the pressure and create a struggle for Seaholm was great," Hidey said.
Heading into the final quarter the game was tied. It all came down to the last eight minutes: whoever won the fourth quarter won the game.
"Usually when one of our guards would drive, we'd dish it to Kaitlyn. She'd be open at the three-point line, and she'd just shoot and make it," Meilinger said.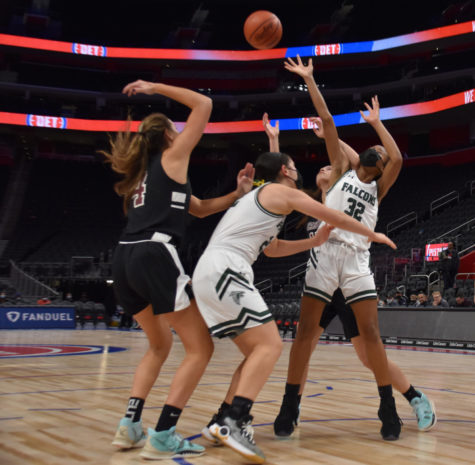 Sanders was the game's leading scorer with 17 points, 6 steals, 2 assists, and one block. Followed by Racco with 10 points and one assist. Senior Destiny McCurdy added 7 points and 2 steals, and senior Elsie Meilinger added 1 assist and 1 steal. The leading rebounder was sophomore Naveah Cochran-McKay with 5 rebounds and 6 points.
Hidey and her team set out to have every possible girl touch the floor. So, with roughly a minute thirty left on the clock, when Seaholm's coach, Manchester, subbed in the rest of his team, she didn't waste the opportunity. Subbing in the four girls who had yet to play, Hidey ensured that everyone on the team was able to contribute to their win.
"There was about 1:30 left, and we were up by nine points when Coach Hidey pulled all the starters out. Once that happened, we all knew what was going on. It was really exciting, getting pulled out and getting to go over, hug our coaches, and get hyped up, cheering and clapping for our other teammates." Racco said.
With a 7 point lead, a missed shot from Seaholm, and no time left on the clock, Groves won 48 to 41.
"You're never going to remember the score, you might not even remember the team you faced," Hidey said "But you'll remember that you played at Little Caesars Arena."