Pixel Bath album review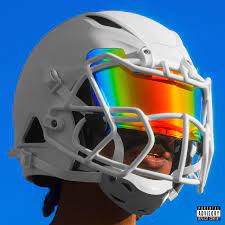 Jean Dawson is an emerging artist within the underground music scene, already breaking boundaries by blurring the lines between indie rock and rap. Dawson is a visionary when it comes to production style, he exists within a gray area in terms of genre. Dawson released his debut studio album "Pixelbath" in 2020 via his independent label P+. Pixelbath is categorized under the alternative/indie genre, but merges with rock and hip-hop elements as the album progresses. The intertwined genres of rock and indie create a truly thrilling, and empowering experience for the listener. Dawson likes to characterize his music genre as "pop music that's just not normal" in an interview with Highsnobiety. Within a society that likes to label and confine, Dawson's rebellious nature manifests through this album. Within "Pixelbath," Dawson masterfully encapsulates teenage angst and the freedom of youth.
The creation of Pixelbath can not be purely attributed to Dawson. The producer of the album, Zach Fogarty, divinely produced 11 of 13 tracks within the album. Forgarty is a small producer, beginning his career in Miami and has collaborated with artists such as Denzel Curry. Additional minds behind the creation include mixer Gabe Wax, and mastered by Mike Bozzi. Pixelbath is Dawson's second album ever released, following "Bad Sports" in 2019. Dawsons talents have quickly been recognized by fellow artists such as ASAP Rocky, and ASAP Mob who are featured on the album, contributing to Dawson's validity as an up and coming artist.
The most popular tracks on PixelBath consist of "Triple Double" featuring ASAP Rocky, and "Devilish." Triple Double has a freeing energetic beat with slightly aggressive vocals paired with lyrics such as "Got a broken jaw/ cause they won't shoot the one on one." Triple Double is littered with sports word play, and a hook "I do better on my own" that demonstrates the impending independence during adolescence. My personal favorite tracks include Starface*, Shiner and Bruiseboy. Starface* is an outlier within the album, with more mellow rhythm and minimal shifts in tempo. Dawson harnesses rough vocals, the song opens with "When the night goes, where do I go?/ I live my life with my eyes closed, I'm just a boy." These lyrics paired with Dawsons whiny tone exudes a desperate element that gives the song depth. Starface* highly resonates with the feeling of running through the night, the steady melody with raw vocals corresponds with the teen angst that courses throughout the album. This is in juxtaposition with track "Bruiseboy" that utilizes an energetic beat and light instrumentals. Repetition being a main component within Pixelbath, is highlighted within Bruiseboy as Dawson repeats "you saw my dreams and you saw your face/ like no way." This track demonstrates the lightness of love as teenagers, playing into the overall theme of the carefree nature of youth. Lastly, the track Shiner perfectly captures the energy of Pixelbath with its ideal balance of slow nostalgic tempo combined with rigid passionate vocals. This mix develops a vintage 90s mood that contributes to the feeling behind Pixelbath.
The essence of youth throughout the album parallels the album's art, which pictures a man with a football helmet with an oversaturated vibrant visor. The meaning of the cover includes a theme of nostalgia, the rainbow lens symbolizing reflecting on memories of youth. Pixelbath producer, Fogarty himself, stated in a private interview that he and Dawson "strived to make it feel like a coming of age film." The coming-of-age film aspect is evident within Dawsons music videos, but merges with feelings of freedom and invincibility during the night. This is encapsulated by the "Power Freaks' music video, directed by Zackary Bailey, in which Dawson is shot hovering above the road while chaotically riding through dim streets. The setting then transitions to what appears to be the open back of a moving van, where Dawson is sat on a couch in various positions. At one scene the van seems to be traveling through a dimly-lit tunnel, ringing similarities to the iconic tunnel scene within the coming-of-age film "Perks of Being a Wallflower." These two unconventional shots visually align with the essence of Pixelbath and reflect Dawson's rebellious free-spirited nature. Although these visuals are truly ingenious, they also seek relatability among teenagers. I found myself surprisingly nostalgic, reminiscing on late nights with my head out the window, feeling invincible. The Power Freaks music video reflects a common experience among the youth, feeling truly free and invincible veiled under the darkness of night.
The slight 90s coming-of-age rhetoric is especially obvious in "Starface*" music video, directed by Zach Madden. The creative directing behind this music video is exceptional, utilizing vintage punk rock inspiration, combined with 90s film editing that create an undeniable nostalgic nature. The opening shots of men in classic wife beater's performing mundane tasks, then cutting to a man posing with the trademark starface ski mask is such a unique concept that compliments the track beautifully. Giving a song a statement piece of clothing, and adding a fashion element that corresponds with the track creates a more elaborate experience for the viewer. The Starface* visuals also contain shots that go hand-in hand with the Pixelbath album cover aesthetic, featuring Dawson levitating into blue skies. Overall Dawsons visuals parallel that of an angsty coming of age film with a profound soundtrack. This invigorates the restless souls of teenagers who long to live life like a movie.
Dawson has quickly built his brand from the ground-up, integrating his personal style to reflect his music. He is often in a variety of masks, his most recent single "Porn Acting*" visual pictures him in a grotesque mask, similar to that of "Starface*." Dawson's experimental fashion contributes to his ingenuity as an up and coming artist within the music scene, creating these intricate designs that are all interconnected with his various projects. On Dawsons instagram he has creative pieces of photography, some featuring shots from his various music videos such as " Clear Bones" where Dawson is pictured standing in a vast field, wearing boxing gloves as he braces to hit a free hanging punching bag. A symbolic juxtaposition that can be interpreted in various ways, such as the contrast of violence and nature. Creative Photography is another way Dawson builds his label through his expressionism. Dawson seems to dominate any creative means he could possibly utilize as an artist.
Overall Jean Dawson is a true visionary in the music industry, who I believe will quickly rise to fame as he redefines genre. As Dawson's talents become progressively more recognized, more featured artists will appear on his albums, contributing to his growing recognition. Producer Fogarty himself, stated he hopes listeners experience "joy and are filled with inspiration to create something new" while streaming Pixel Bath. Personally Dawson's music, with Fogarty's production, resurrects my passion for living. Being alive with the aggressive volatility of life, but also the moments of euphoria and peace. Dawson perfectly curated a coming-of-age soundtrack that encapsulates the unpredictability of teenage years. Pixelbath is my personal favorite album, with its wide range of emotions but consistent underlying theme of youth. I am confident Pixelbath is just the tip of the iceberg for Dawson, and his future albums will continue to convey his distinctive energy. He is just getting started.
Leave a Comment
Donate to The Groves Scriptor
Your donation will support the student journalists of Wylie E. Groves High School. Your contribution will allow us to purchase equipment and cover our annual website hosting costs.