Senior with Down syndrome Joey Gallagher inspires the Groves community
It was one of the happiest moments of her life, yet everyone, including the medical staff, kept apologizing to her. They worried about her newborn son's probable delayed development, learning disability, speech impediment, and difficulty thinking and understanding: the most common aspects of Down syndrome.
When Caryn Ciagne Gallagher gave birth to her son, now Groves senior Joey Gallagher, Caryn wished people would see past his diagnoses of Down syndrome.
"There was such a dark cloud cast over him at birth by everyone. By doctors, by people who instead of giving well-wishes gave me more of a, 'I'm so sorry. I'm so sorry'. What were they sorry about? It was the weirdest thing," Ciagne Gallagher said. "He was my second child, so for people to feel like they were sorry I had a child that had special needs was just really bizarre. We celebrated Joey's birth. We truly felt like we won the lottery. My immediate feeling was he's a wonderful addition to our family and to our lives, and he's going to change all of us for the better."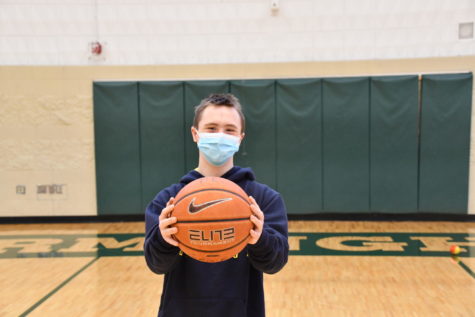 Gallagher moved from Florida to Michigan the summer before Joey's 8th grade year. He progressed through his final year of middle school at Berkshire, and the following year he began at Groves. Throughout his time at Groves he participated in many extracurriculars. As an executive member of Links, a club where students with disabilities meet with cognitively typical students during lunch, Gallagher helps plan their meetings and build lasting friendships between diverse groups. He has also participated in many sports at Groves: competing in the swim, cross country, and track and field teams since his freshman year, and on the Groves Unified Basketball team since it started in his sophomore year.
Track and field and unified basketball coach Brendan Flaherty has known Gallagher since Gallagher's 8th grade year and now considers him a close friend.
"I was introduced to Joey at Berkshire when he was playing middle school basketball. I got to know Joey then, and it's hard not to fall in love with the kid, having him around," Flaherty said.
Although many assume that Gallagher may be less qualified for the sport because of his Down syndrome, Flaherty expects the same of Gallagher as any other player.
"I've got to treat him like everybody else. That's all he's ever asked anybody: just a fair shake and a chance," Flaherty said.
Flaherty admires Gallagher's willingness to be himself and try new things.
"Few people really put themselves out there the way Joey Gallagher does. How can you not respect and try to work with someone like that?" Flaherty said.
Gallagher's mom takes pride in his confidence and passion in everything he does. She remembers his excitement as he crossed the finish line while running track in a special olympics program in March of 2013 in Charlotte County, Florida. Gallagher refused to stop even after reaching the end point; he just kept running. The joy on his face as the crowd cheered stood out to her most about Joey's experience with track and field.
"He puts so much enthusiasm into everything: whether it is crossing the finish line, or adding a cartwheel, as he does at the end of cross country races. He just always gives it that extra something," Ciagne Gallagher said.
Despite his exuberant personality, Joey at times feels down about himself and struggles to overcome judgment even in his own mind. He remembers anchoring a 200m relay for the track and field team. He could hear his team cheering for him, yet he was still skeptical of his chances.
"I kept thinking, 'I can't do it because I suck at everything'. Then I would think, "Ok, I got this.' But still thinking to myself I suck," Gallagher said.
He ended up coming in first place and winning the race for his team. Despite his victory, instead of feeling happy and proud of himself, Gallagher was angry.
"I was feeling mad at myself because I never believe in myself. Whether it's in swimming, or cross country, I'm always like, 'Darn it! I can't do it anymore! I suck at everything!' But I can do it. And at that meet, I did do it," Gallagher said.
Gallagher is aware of his differences but knows that doesn't make him any less capable. He feels that he can be underestimated and even notices different treatment in the classroom, such as a lack of initiation in conversation in and out of the classroom. Even not hearing 'Hi! How are you doing today?' from someone walking down the hall impacts his mood.
"It makes me feel horrible. I think negatively to myself all the time because I always think people are never gonna talk to me, and people hate me," Gallagher said.
This is especially challenging for Gallagher as he loves talking to and meeting new people.
"Joey is super social. I remember, when he was a sophomore, he probably knew every kid's name at school and everyone knew Joey," Gallagher's mom said.
As many highschool students are still getting to know themselves, Gallagher's mom feels most students don't feel comfortable enough in themselves to socialize with people from different backgrounds.
"Kids tend to be chameleons amongst each other. That's because they're not quite comfortable in their own skin. They're afraid of how their friends will perceive them if they decide to go have lunch with Joey," Gallagher's mom said.
Ciagne Gallagher feels like sometimes the diagnosis is used to stereotype and label people with Down syndrome as "incapable". She struggled with this when her family and she moved to Florida during Gallagher's third grade year. After they moved, Gallagher's new school had to follow his previous Individualized Education Program (IEP) for three months. Once that three months passed, family members and school staff met to discuss a new IEP. The new IEP the school proposed would remove him from being mainstreamed and put him in a special education classroom. In middle school, this would put Gallagher at a school with a 40-minute bus ride from their house instead of the school close to their house where his sister was enrolled. The worst part for Gallagher's mom was that Gallagher was completely capable of thriving in a mainstreamed environment. For her it felt like the school didn't believe in Joey the way she did. And that they were picking the easy way out.
"They were not servicing his needs. The school's proposal was a glorified babysitting situation," Gallagher's mom said. "There were a lot of difficult conversations with the principal and the variety of people sitting around at his IEP meeting. It's hard not to be emotional at that moment, because he's my son. I remember I just had to keep going, just trying to keep it business professional to keep him mainstreamed. We had to make that happen for Joey."
Joey's mom emphasized the assumption that those with Down syndrome need to be separated from their peers is false and negatively impacts those students' confidence. She wants people to understand that the diagnosis of Down syndrome doesn't mean incapable or 'negatively impacted'.
"It has nothing to do with being 'down'. That's only the background of it; it's called Down syndrome because the doctor who discovered it was named Down. Anybody who has Down syndrome is capable of doing whatever other people do. We shouldn't limit them," Joey's mom said.
Music helps Gallagher overcome his internalization of stereotypes about people with Down syndrome. Gallagher has been playing guitar since age five and hopes to one day play on a big stage. Something that brings Gallagher so much joy is the impact his music and entertainment has on others.
"One of my biggest goals is being on America's Got Talent, playing guitar and singing. My top song is "All Star" by Smash Mouth. When I'm in a depressing mood, I listen to that song, and I picture my friends making me laugh. Especially my friend Donovan, who has always been there for me. He knows my favorite song is "All Star"," Gallagher said.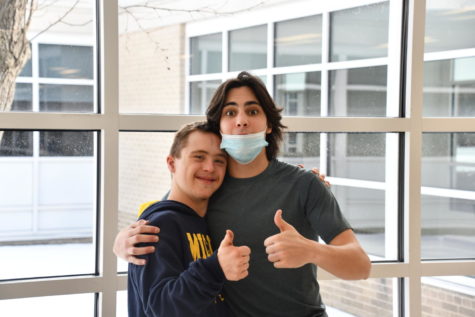 Along with music, Gallagher's support system of family help him overcome his struggles. When he was first born, his mom met with nurses and doctors as part of an organized effort to talk to them about how they could better present the news of either a pre-delivery or post-delivery diagnosis of Down syndrome.
"I would bring pictures of Joey and say, 'No, this is joy'. We named him Joey because his birth was joy. The word joy with an 'E'. Something extra that's true," Ciagne Gallagher said.
Joey's mom said her family has adapted to the challenges of Gallagher's diagnosis as a team.
"I have three children and everyone has their challenges day in and day out. We definitely all wear multiple hats to be there for each other," Ciagne Gallagher said. "Although the doctors will have their doubts. They'd say, 'Oh, well, he's never going to amount to anything, or he's gonna drool. He won't be able to do anything'. That's just so sad and disgusting. If you put hope and faith in a situation, and you work towards something, anything is achievable."
For Liam Gallagher, Gallagher's younger brother, Gallagher's diagnosis was hard to understand at first.
"I just remember the frustrating feeling of being younger and thinking 'Why?'. We'd have to help Joey out with certain things that I was able to do just fine. I remember thinking 'Why can't he be like us?' Looking back, it's rude, but that's how I felt. I was so young, and I couldn't really understand Joey's circumstance," Liam Gallagher said.
As Liam grew, he was able to understand Gallagher's diagnosis and admire his peservierence.
"I've definitely grown to understand and been able to look up to him more the older I get. I realize how much he's accomplished with how challenging some situations can be for him," Liam Gallagher said. "I live my life looking up to Joey. He's super inspirational because he has overcome having Down syndrome, while being able to do what he wants, how he wants to."
Liam feels Gallagher's diagnosis has made Liam a better, more mindful person.
"It's definitely taught me to respect and treat everybody with the same amount of respect as they deserve, and consider people's feelings," Liam said.
Gallagher also leans on his peers and teachers for support. Flaherty has been a big support for Gallagher throughout his time at Groves.
"He has been my big impact for all four years of my high school career. He has really helped me with my positivity. Talking to him helps me change all of my negative self talk into positive self talk," Gallagher said.
Gallagher's Cognitive Impairment teacher Molly McCain has taught Gallagher since he was a freshman. She admires how Gallagher's confidence and positivity influence those around him.
"Joey has a way of making everybody smile and laugh. Even when he isn't feeling the happiest, he goes out of his way to make sure everybody else has a smile on their face," McCain said.
Astronomy teacher Brian Stukey has also been a key mentor for Gallagher.
"Mr. Stukey is just an awesome person to be around. He's funny, but at the same time, when class starts he is serious," Gallagher said.
Ciagne Gallagher feels like Groves has done a really nice job of welcoming and including Gallagher in activities, from sports, to clubs and extracurriculars.
"Joey's been able to do everything he wants to do. He gets the accommodations he needs with the schoolwork, and I feel like the options are limitless. Anything he's wanted to do in the past four years of high school he's been able to do," Ciagne Gallagher said.
McCain noted that teachers not only include Gallagher but also make sure he is an active participant during class.
"They accommodate him to make sure that he's not just sitting in the classroom, but involved. Not looking at him and thinking, 'Oh, poor Joey, he has Down syndrome', It's more of a 'Oh, wow, Joey'. Not Joey with Down syndrome, but just Joey, another member of the groves community," McCain said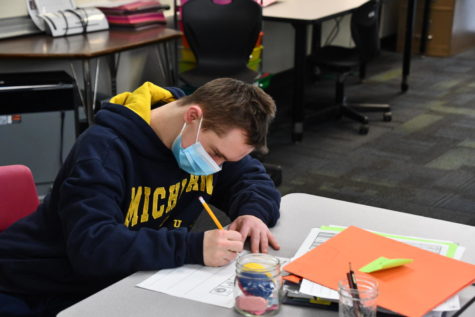 As a teacher, McCain feels fortunate to be a part of such a welcoming community. Thinking back on how people with Down syndrome were perceived just a decade ago, McCain notes that the inclusivity now in school highlights the changes in perception among the special needs community.
"I know that, when I was younger and in high school, people weren't as welcoming and receptive to people who had special needs, and Down syndrome in particular. Seeing the way Joey stays involved has really made me happy and proud to be a part of the Groves community," McCain said.
Another measure Groves takes to include students with disabilities is Victory Night. Victory Night takes place during the halftime period of the Powderpuff game during Spirit Week. During Victory Night, students with disabilities from various schools in the Birmingham area are paired with a current football player and are given the opportunity to play football in a simulated game. Each student is led down the field, ball in hand, football player by their side, encouraging them as they dodge each intersection on the path to the end zone. The stands erupt after every successful touchdown by each student. The football players go wild to support each participant.
Flaherty said that Victory Night is an emotional night for the audience, the players, and especially the parents of children who struggle with special needs every day.
Flaherty understands the effect of special needs on family life, and feels it is important for the football players not to take their spotlight for granted.
"They [football players] get multiple times in their career to be out there under the lights, people cheering. People with Down syndrome, people with special needs, they only have a small window for that type of experience. That's one of their windows that night [Victory Night]. It's got to be awesome for that kid and for that family," Flaherty said.
Gallagher remembers how thrilled he felt after doing a somersault during Victory Night.
"Before, I was very hesitant to do it and I almost opted out, but one friend told me 'You got this and you will' so I took that into mind and just ran," Gallagher said. "After my run, I was like wow. I'm like 'Oh my gosh, what did I just do? That's amazing!'"
Victory Night has helped students with disabilities build relationships and feel valued. For Flaherty, seeing these budding friendships really shows how inclusive the Groves community is.
"The friendships are built with the special needs students' football mentors, and they see each other and say 'Hello' in the hallway. It's a part of the Groves way," Flaherty said. "There's a space and a spot for everybody at Groves."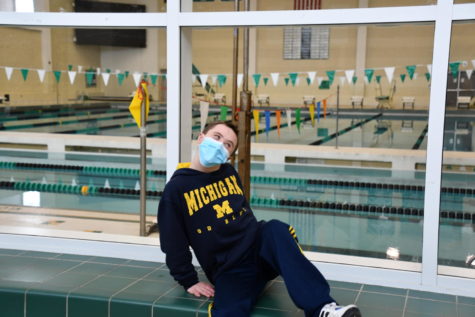 As Gallagher navigates his senior year and looks forward to graduation, he is starting to realize that his next steps may not be the same as his peers.
"Now that he's older, he's seeing his friends that are the same age talking about going to college, talking about their jobs and their futures. His future looks a little different. I think that he's realizing he might be a little different. I've tried to instill in him that everybody's path looks different," McCain said.
Gallagher's mom is not worried about his future and believes Gallagher will chart his course. After high school, Gallagher plans to continue working, exploring his love for music, and participating in special olympic athletics. He will also be attending the Annex, an adult transition program, part time.
"I'm excited about his future. Definitely excited to see what the future holds," Ciagne Gallagher said.
Gallagher's brother feels like if more people got to know individuals with Down syndrome, they might have a different outlook on the diagnosis.
"If more people met people with Down syndrome and talked to them, they would maybe understand them a little bit more: a 'put yourself in their shoes' type of situation," Liam Gallagher said. "They're awesome people to be around. Joey always brings me a lot of joy. If you know someone with Down syndrome, you definitely are very well off."
Gallagher's mom said she would not be the better person she is today if Gallagher had not been diagnosed with Down syndrome and that Gallagher would not have such a bright future if Groves had not supported his passions.
"I just slowed down, learned to be more patient, more understanding. I learned to not only shower my child with love unconditionally, but to adapt," Ciagne Gallagher said. "I'm just so proud of Joey for everything he puts himself into, because he really is a doer. He signs up for everything. He wants to do everything. Groves gives him that opportunity and he does it. He does it."
pic-joey in gym/um sweatshirt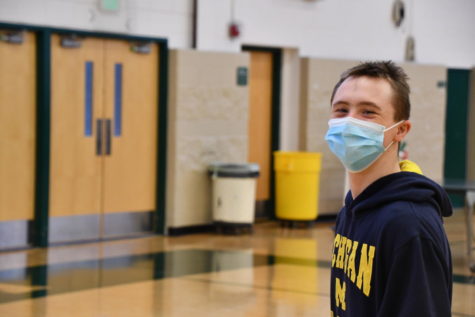 Leave a Comment
Donate to The Groves Scriptor
Your donation will support the student journalists of Wylie E. Groves High School. Your contribution will allow us to purchase equipment and cover our annual website hosting costs.
About the Contributor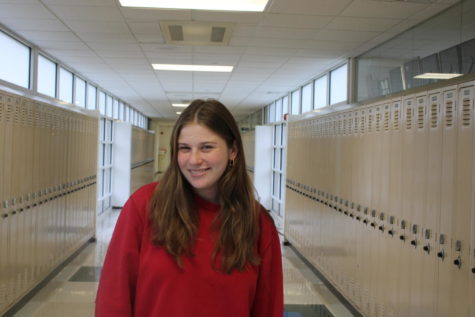 Sarah Weinhaus, Editor in Chief
Sarah Weinhaus is a Co Editor in Chief for The Scriptor. She has been a member of the Journalism program since her freshman year, and her favorite genre...