Girls' water polo Team overcomes schedule change and enjoys greater support from boys team
For years, the boys and girls Groves Water Polo teams have had different seasons. The boys' season traditionally took place in the fall and the girls in the spring. Starting this year, both teams' seasons are now taking place in the spring; due to the concern that there wouldn't be a full season due to Covid.
With this modification, the girls' team practices later in the evening than the typical right after school practice. The time slot directly after school is now being occupied by the boys' team's practices.
Junior left wing Stella Grake has trouble with the practice time change because she now finishes her homework much later than before the change.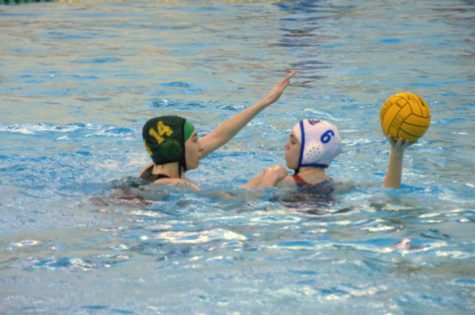 "I haven't performed as well in my classes, so it's been a little tough lately. The other day I went to bed at 1 AM because I was studying for a test. I went home after school and took a nap before practice. It was difficult to get through the night," Grake said.
Sophomore wing Briana Kim is among those who have had to find a new way to manage both homework and practice.
"Last year it was more convenient for me because I could just get my homework done after practice and then go to bed. Now, I have found myself having to do homework and mix it in before and after practice. So, it's a little less convenient," Kim said.
Senior captain and point guard Kalli Gaggos found a silver lining in the situation.
"I don't think it really affects my grades. It can be annoying, but it's not a terrible thing. In my opinion, the time change works better for everyone, including our coaches. While it's not favorable to have to take an extra trip home and back to Groves, it's kind of nice because I get to eat dinner before practice," Gaggos said.
Many girls found another silver lining in the time change: inspiration and support from the boys' team. Grake finds that having the boys around provides a great opportunity for increased motivation and performance.
"Having all the boys around as we practice pushes the girls on the team to perform well because the boys' team's really good, and we don't want to make ourselves look bad in front of them. I think we play a lot better when they're around," Grake said.
Now that they have the same season, the boys stay to watch the girls' games and shout motivating comments.
Grake felt inspired by this after her goal against Seaholm on March 18.
"The boys were in the warm-down pool next to the game pool while we were playing. I shot a goal after I drove in from the right flat position and scored the first goal of the game. all the boys were at the end pf the pool screaming my name, and it was a really fun experience," Grake said.
Senior varsity water polo player Drew Varda expressed his view at the same moment.
"The girls had just scored against Seaholm at districts and they were going crazy, so my whole team got out of the pool and went crazy," Varda said.
The girls' water polo players collectively view the players on the boys team as their friends and appreciate an extra confidence boost from individual boy players. Kim specifically received a "pick-me-up" from sophomore JV Water Polo player Zach Lezovich.
"Just earlier today Zach asked how I did at my game. He asked me if I scored any goals; I scored one that game. He often does things like that. It makes me feel appreciated when he asks about my games and celebrates my scores. I never had so much support before because I used to not be an amazing polo player. It's just great to know that he's out there watching and asking how I'm doing," Kim said.
Gaggos also enjoys the increased comradery with the boys water polo team, though she doesn't think their presence affects the score of the game.
"When the boys are there supporting us, it makes us more enthusiastic and ready to play. We love it! Yet, I don't think the boys being present affects the score of the game. To me, it's similar to someone telling me 'good luck' before a test. Their advice won't necessarily affect my test score, but it still feels good to have someone supporting you," Gaggos said.
Though the girls finished the season with a record of 9-10, the greater support from the boys' team helped the girls through intense, at times physically painful, games.
The girls' water polo players said their games are violent; players from the boys' team agreed.
"I would say girls' water polo is pretty close to, if not more physical than boys' water polo. With guys, you can kind of hold back on physical contact. With girls there is a lot of physicality over possession for every player, even if they don't have the ball," Varda said.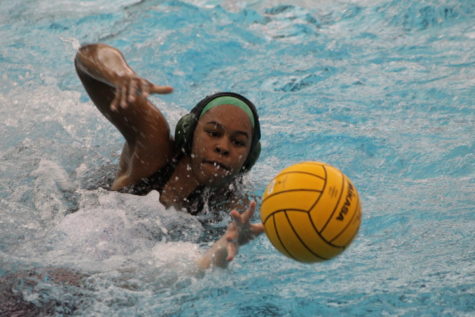 It was during sudden-death overtime with an opposing offender from Mason High school on March 21 that Grake was pulled under the water.
"Mason was on our side of the pool, and one particular player was the fastest swimmer on their team. My coach put me on her and shouted to me, 'don't let her get in front of hole.' So, the whole time I was covering her, I played super tough on her," Grake said.
Grake put her hands up on the Mason player and got mad because Grake wouldn't get out of her way. The Mason player pushed Grake under the water. Grake struggled to swim back up, and the refs whistled both of them out of the game.
Several girls on the team endured specific plays they said got out of hand, sometimes resulting in fights and kick-outs.
Troy high school goalie injured Kim on April 19.
"Someone made a shot from the Groves team and the Troy goalie blocked the ball. As the goalie was swimming back out, Kim was trying to make a rebound so she could grab the ball and shoot again. " I swam towards the goalie, which is allowed. Then she started getting aggressive. She went over my arm and made it so I couldn't reach the ball, which is a foul," Kim said.
The foul was called against the goalie and play was stopped. In this situation, the ball is supposed to go back to the victim of the foul; however, Kim did not quite have this experience.
"When the goalie gave the ball back to me, she threw it right at my face. I didn't have time to react since she was only one or two feet away," Kim said.
After Kim had been hit by the ball, she attempted to play on and push through the pain.
"In the moment when the ball hit me right in my face, I was thinking to myself, 'Oh my gosh!' Next thing I knew, I was under the water. When I came back up to the surface I was thinking, 'Woah what's going on?' Everyone in the crowd, including parents, were all booing. At first I thought they were booing at me. I thought I did the right thing so I was confused, but it turns out they were booing at the goalie. After I got the ball back, I was disoriented and I tried to shoot. Unfortunately, I completely missed the goal," Kim said.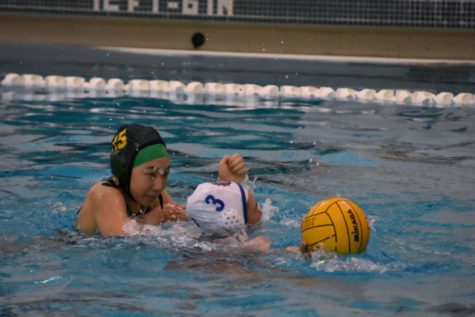 Throughout the ups and downs of the girls' season, Gaggos said the boys' team remained engaged in their games.
"It's really nice having the boys be part of our season because we get to support each other," Gaggos said. "It's similar to when the boys had swim during our swim season as well, it was really fun for us to be able to go watch them as a team and for them to easily come to watch us since we were already all at the pool."