The Lavish, Lively, Library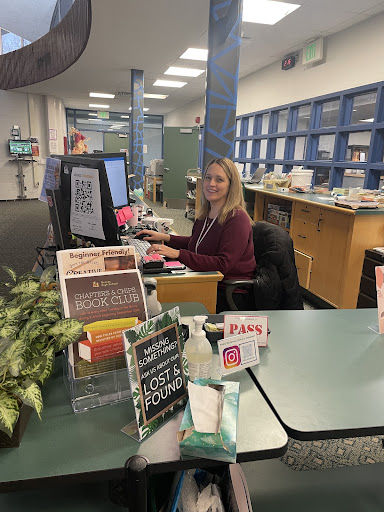 With more than 1500 students and 7 acres of land Groves is one of the best educating buildings to learn at. The numerous sports and clubs offered here at Groves make it easy for students to be involved. One activity loved by all age groups, students and staff, is reading. The media center is open to all grades. Separated by different genres, it is a great place to find whatever book you're looking for – there's even a designated computer to look up and find your desired book.
The media center is not only for books, with several computers and open seats making it easy to get work done. Big group tables with connectable TVs surround the walls of the library for group work. The library is a great place to clear your mind. Whether that is finishing a puzzle or listening to music, it is a great place to take a break from your busy school day. Not to mention all of the comfy couches or private seats to help get focused on a good book or just finish up that essay in peace.
When you first walk into the Media Center, behind the desk to greet you is Library Media Secretary, Jaime Sheena or Library Media Specialist, Ann Truesdell. Working at the Library isn't just sitting around reading books, Truesdell has a long list of responsibilities.
"I reshelve books, check books in and out, we do a lot of laptop maintenance things, working on library displaces, we've got kids coming in and out of classes, so I got to monitor that, and lunch it's a hotspot for lunch so I gotta do that, lots of different things!" Truesdell says.
Recently, the Media center had a Zombie Barbie Contest for Halloween, where students could dress up a barbie and then submit their Barbie to the library to be judged. The winner of this contest was Lily Dittrich, who won a little goodie basket from the library. Truesdell shares what's next for the Groves media center.
"We've been coming up with some new things, like our library committee board meeting with some students who gave us some cool ideas. We were gonna do something with old books, somehow turn them into art, maybe holiday wreaths, or any art like that" Truesdell said.
The media center also offers a book club. The Chapters and Chips book club has already started for the 22-23 school year – but it's not too late to join! Meeting every Tuesday during X-block, students select books that are offered for free to all participating students. With two meetings and one book per month, the club is a great time – plus, there are snacks!
Considering all of the books that fill up the Groves library, Truesdell has a lot of books to read.
"The book I'm excited to finish reading right now is A Good Girls Guide to Murder and I'm almost done with it. I know that this is only the first in the series so once I'm done with this one I think I'm gonna get through the other two, so I'm excited for that" Truesdell said.
Whether it be for a class project or you just need to finish up some homework, heading to the Groves Library is the right decision.
Leave a Comment
Donate to The Groves Scriptor
Your donation will support the student journalists of Wylie E. Groves High School. Your contribution will allow us to purchase equipment and cover our annual website hosting costs.