Girls lacrosse team makes a comeback after last year's season cancellation
April 9, 2021-it was the first game of the season. Energy levels at an all time high. Laces tightened. Lacrosse sticks woven. Pre game warm-ups in action. It was going to be a great start to the game – for Grosse Pointe South. 
Across the Seaholm high school football field stood the Varsity Girls Birmingham United lacrosse team, struggling to keep it together before the kickoff to their 2021 spring season. Over five players were absent for their first game of the season, and they only had one available sub. This loss wasn't on the team members. They barely had enough players to participate, and Covid-19 doesn't care much at all about schedules and commitments. 
Junior Groves lacrosse player Eve Collon knew that only having one substitute player during their first game (when their endurance was at its lowest), would make most of the girls nervous.
"The girls that played in that first game knew that they had to push themselves as hard as they could to win the game," Collon said. "I worked myself so hard that both of my calves cramped during the game, I nearly passed out, and I threw up when I got home. As embarrassing as it is, we still won and it shows how hard we are willing to work in order to succeed." Eve's determination towards their game against Grosse Pointe really showed during her post game sickness. With a win of 12-8, the girls felt that they had really proved themselves in the season's kickoff.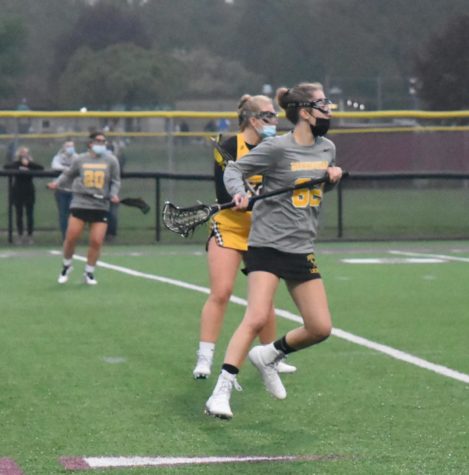 Coached by Jen Dunbar, the varsity girls Birmingham United lacrosse team is a combination of both Groves and Seaholm players. Many questions arise about the stigma surrounding the rival schools playing together, instead of against each other.
Groves sophomore Liv Chapman knew some people who came into the program expecting some sort of tension or divide between the Groves athletes and the Seaholm athletes.
  "Once you get to know everyone the stigma is shattered so fast. It's so easy to connect with your teammates when you're all working towards the same ultimate goal of winning and having fun." Chapman said.
After losing their beloved season during the spring of last year due to Covid-19, tensions were high among these eager athletes. They knew they would have to push themselves more than ever to raise their team's abilities back to the top. The lack of motivation and depression that overcame players during the  2020 season's cancellation carried into this season. The girls felt that playing the game just wouldn't be the same. With various Covid-19 tests mandated before every game, practice, and activity, player's freedoms were stunted. Tip-toeing around certain events and everyday activities to avoid being 'contact traced' became their lifestyle during the lacrosse season. If a person is placed in a classroom within six feet of a student who has contracted the virus, they're required to quarantine for at least ten days. According to the CDC, Covid-19 symptoms may appear anywhere from two to fourteen days after original exposure to the virus. Negative covid tests still don't solve anything, considering there's a possibility they could be false results. With such high expectations from both the community and school board, our spring team's players cannot afford a two week absence. Having Brimingham's hybrid in-school method in play, students on both the JV and Varsity spring teams were presented with an ultimatum: either go to school, see their friends, participate in a semi-normal school environment, and risk being contact-traced, or deal with online school  to participate in their sport safely. Most players chose to stay home. Their devotion to the team, and motivation to play was much more important than the socialization factor.
 Although some students had their covid and academic factors under control, such as Groves junior Madee McBride, who personally chose to attend school. She was cautious about who she interacted with, and followed the mask rule. McBride says she wanted to integrate back into a normal school lifestyle, but this meant that she had to cut out a part of her social life.
"A big thing we had to change as a team was cancelling all of our bonding and traditions" McBride said. "Before every game we have pasta dinners after practice the night before in order to bond and get hype before game day". 
With potential players aware of this dilemma, a lot of girls turned their heads on the opportunity to play for the team this season. Varsity head coach Jen Dunbar was disappointed with this year's lack of available players.
"This is the lowest turnout of players in the program we have ever had, but I am hoping with the success the JV team is having that we will quickly rebuild the numbers in the next couple years" Dunbar said. Whether or not this un-eventful start to the renewing season was related to the past year's covid out break or not, the minimal players available was detrimental to the teams well being during games.
Although most spring sports' students chose to stay virtual, their non attendance at school didn't halt their socialization completely. Friend groups still thrived amidst the season, and when vaccinations began to arrive, masks began to disappear from the picture. At such a prime age, and with the controversial reliability surrounding the Covid-19's victim rate, teens are much less inclined to completely adjust their lives for a virus they are most likely able to recover from. Staff members and coaches understood that they couldn't force everyone to completely cut out their entire social  lives for the sport, so they did all they could do- provide encouragement towards following the rules. 
According to coach Dunbar the low numbers due to positive cases and quarantines made practices and games difficult, but manageable.
"We have been very fortunate to be able to continue playing without taking a break," Dunbar said.
Whether suffering a loss of a family member, friend, milestone event, or long awaited vacation, covid-19 did not hesitate to display the domino effect. For the BWLAX team though, this burden might've been just what they needed.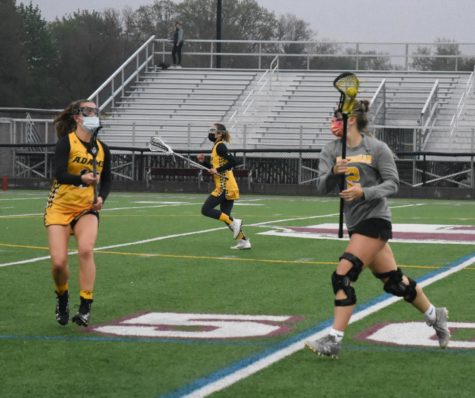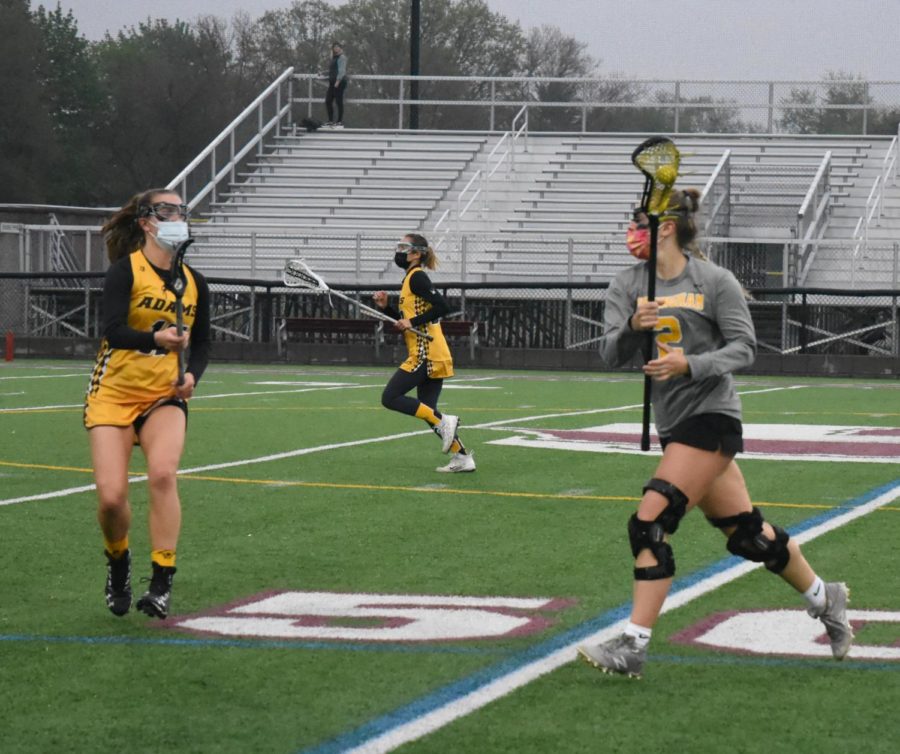 The motivation stemmed from their focus on such few players, but they felt  devastated during March 2020 when they were informed of the possible cancellation of their season. Sophomore Liv Chapman recalls the moment she and her teammates discovered that the cancellation of their season was on the rise. With Chapman and her closest companions huddled together on the turf, the Covid-19 spike was the topic of discussion. A teammate approached, and broke the nervousness with a confirmation of the chances of a season cancellation.
"At the time all of us were totally oblivious to what was coming, but standing there looking at one another was probably one of the strongest connections I've felt so far," Chapman said. "Every person had this heartbreak in their eyes that you could see in an instant. Lacrosse means so much to all of us, it was a huge moment for us." 
Chapman said the BWLAX team is more of a family than anything else. Motivating themselves and their peers, sometimes with some tough love, was how they get better as a whole. 
On April 28 2021 , when the varsity girls lacrosse team spread along Seaholm's Maple Field for a game against Brighton Highschool, tensions were high and spirits were low considering their poor performance in the previous Monday night game against Farmington Hills Highschool. After slacking off in the last game, the players knew they'd have to work extra hard to prevent a losing streak, according to Eve Collon. The game was about to begin. 
Family members and JV team players swarmed the stands ready for an eventful game. Gatorade bottles sat upon the benches, filled and waiting for the fast moving time outs. Players were busy along the sidelines clasping their goggles in place, and lacing up their cleats when two hyper students pulled everyone aside. Pre-game warm ups and pep talks are the norm as far as motivation goes, but this specific pre-game speech left a mark on those who listened.
Eve Collon recalls the moments huddled together prior to the first play and the inspiration that junior Madee McBride and senior Gwyn Winemen did their best to project onto their fellow teammates.
"Madee McBride and Gwyn Wineman instilled a sense of grit into the minds of every player on the team," Collon said. 
Coach Jen Dunbar watched proudly from the sidelines as her players hyped each other up prior to the big game against Brighton.
"They do their own pregame motivation from a dance party to speeches and it's just the girls, which I think is awesome," Dunbar said. "They need to motivate themselves, challenge themselves.  Yes, coaches have a role in this but it's different, so I love to see the girls take this on." 
Dunbar really enjoys seeing her team bond and form independent relationships. They proved that they had each other's backs, with an 18-4 win against Brighton.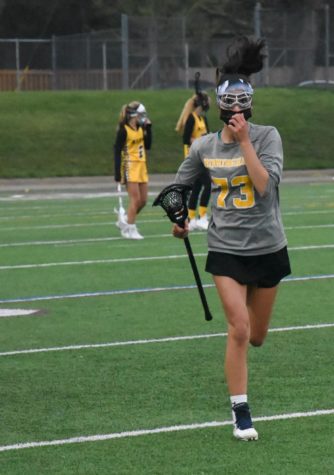 Despite the Covid-19 outbreak and cancellation of their 2020 season, the girls pushed themselves to the absolute max in preparation for this year's round of games and practices. Coach Dunbar had very little expectations for the team this season, considering she was unsure about her Covid-19 limits, but she did know that she wanted to make far in the playoffs.
"I think we all came into the season with expectations of simply playing. Being on the field again was the priority. Having fun, being with teammates, competing were desperately missed, and I noticed from everyone a sense of relief and joy just to be back outside on the field," Dunbar said. "Going far in the state tournament has always been a focus of the program, and is this season, but we all knew that we had a lot of work to do to make that happen". 
Regardless of the Covid-19 set back, these girls did just that and won. Players circled back around on May 20, 2021 to begin their reign to district champions with their first play off game against, once again, Grosse Pointe South. Groves junior Abbie Caza pulled through with five goals that evening, and close behind were Seaholm senior Gwyn Winemen, Groves senior Grace Hupp, and Groves junior Madee Mcbride with three goals each. Finishing out the game with a 19-10 win, the girls were feeling extremely confident in their stance.
Three time-scorer Grace Hupp remembers feeling super proud of herself after her peformance, and was ecstatic for her team during the first playoff game.
"We wanted to win that game so badly because if we didn't it meant our season was over and we weren't ready for that yet," Hupp said. "We had such great energy as a team during that game, it felt amazing."
The team knocked out their second win in the playoffs against Clinton Township's Chippewa Valley High with a 23-2 win. Once again Abbie Caza proved herself with a whopping 7 goals, and Gwyn Winemen with another 3 goals. Backing them up with another 2-3 goals were Groves juniors Eve Collon and Ella Schmidt, and Groves seniors Taylor Mahle and Grace Hupp. Carrying a solid four points for their team, Groves sophomore Liv Chapman, Seaholm senior Molly Ferarri, Seaholm junior Mina Badwhar, and Groves junior Kathleen Sovran contributed with one goal each. The girls' season took a turn for the worst with June 2's playoff game against Bloomfield Hills Highschool when their streak was cut short with a disappointing loss of 4-16. Devastated, the girls were really hoping to be reigning champs. 
Among the covid-19 lockdown stood a group of determined girls who proved themselves this season, on and off the field. Memories made, and goals reached is all that Coach Dunbar and the team were really hoping for. 
Liv Chapman reflected upon her lacrosse experience these past two seasons with a touch of inspiration in her own words.
"You always hear people say 'you never know when it'll be your last game' and last year that really became a reality for some people," Chapman said. "Every game we play has turned into an opportunity to prove ourselves and leave it all out on the field".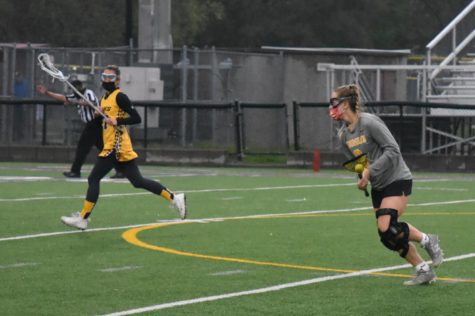 Leave a Comment
Donate to The Groves Scriptor
Your donation will support the student journalists of Wylie E. Groves High School. Your contribution will allow us to purchase equipment and cover our annual website hosting costs.
About the Contributor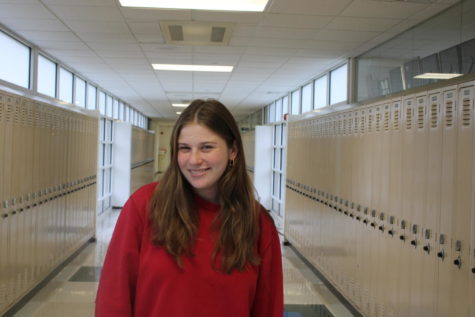 Sarah Weinhaus, Editor in Chief
Sarah Weinhaus is a Co Editor in Chief for The Scriptor. She has been a member of the Journalism program since her freshman year, and her favorite genre...