How a strong relationship between players on girls volleyball team helped on and off the court
My heart raced.
It was my first home game playing on varsity as a sophomore, and I really hoped I didn't mess up. I really hoped to make my coach proud.
It was my turn to serve. The score was 23-19. My palms started to sweat as I strode to the serving line. My serve flew over the net, and, as soon as my serve made it to the other side, I lept into action. I rushed to the right side of the court to get into my position. The ball came over towards junior Luna Succar; she bumped the ball to me, and I set our middle hitter, senior Dajah Mines. She went up and hit the ball over the net. The other team tried to block Mines but she swung through the block and got us a kill.
That was game point for us, and junior Becca Apsey came up to serve. She served the ball over, and the other team returned it over. The libero, senior Mara Chalifoux, passed the ball to me, and I set Becca up on the front left side of the court; and she swung at it. The ball went flying to the right corner on the other side of the court. We got another kill and won our first home game.
Each bump, each game point, each win on the court depended on our ability to understand each other and to communicate effectively. Our bonds off the court have been instrumental to our success on the court.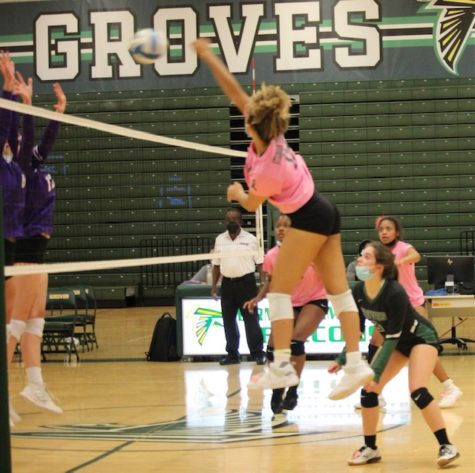 At first, our bond wasn't the greatest. We would have small arguments most of the time, and everyone had their own groups of people that they would talk to because they didn't really know anyone. With such a lack of social cohesion, we didn't play well because we were not working together as a team, and we were putting each other down instead of working together.
"The relationship on the volleyball team can be a little rocky at times, but what teams don't get frustrated at each other?" Mines said. "We learned to let that little frustration go in the middle of the season. When we have fun, the energy is good, and we play very well as a team. That's the best part of playing volleyball when you play as a team and win as a team."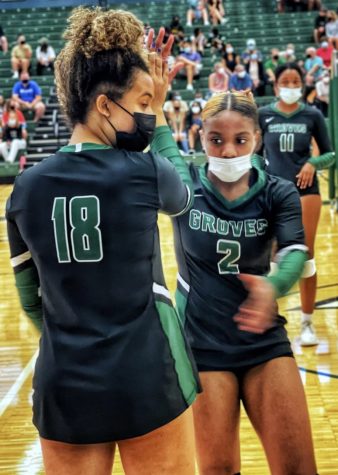 I will never forget the party we had for our coach's birthday. We all got together and decided to get pizza and cupcakes. We went to Beverly Park, sat on the benches, ate pizza, and talked about the volleyball season. Then we sang happy birthday to our coach.
"We do lots of little team bonding things to make sure our bond is that much stronger on the court. We've done ice cream trips, played tag with each other during school, and we have team dinners often. This helps us improve on playing better because it brought us closer and we were able to get to know each other." Mckeever said.
When we started bonding more these game-winning points kept coming and Mckeever especially noticed this.
"Everyone is kind, gets along, and makes practice, games, and tournaments way more fun. When we play as a team we have way more fun and play better. We come together and everything flows and we win a lot more," Mckeever said.
Senior Lydia McKeever said that our team relationship helped us in our last home game against Bloomfield Hills.
"After the first set against Bloomfield Hills, we were losing, and our team wasn't working together very well. We all huddled up and talked about what we were doing wrong and what we could do to fix it and work better together. They were a good team, and we ended up losing the second and third sets, but we were working together a lot better and having lots of fun playing with each other. We played very well, and it was a good way to end off our last home game of the season and for the seniors," McKeever said.
Before the game against Bloomfield Hills we had a game against Avondale on September 28, we were on our first set. I was the setter and I played right front. When I first went into the game, I was very confident that we would win. Towards the end of the game, one of Avondale's hitters went for a kill. As she went up to swing at the ball. I saw it coming so I jumped and blocked it. This was my first ever block on varsity, it was our turn to serve. We served the ball over and their back row player passed it to the setter, she set it up for the hitter. As the ball was leaving the setter's hands, I followed it with my eyes, and I jumped at the same time as the hitter. The ball hit my hands and went back over to the other team's side and hit the floor. We had gotten the point. It was my second block in a row right after my first one ever. I got two blocks in that game, and I was very proud of myself and so were my teammates. Having them around to give me advice on blocking helped me a lot.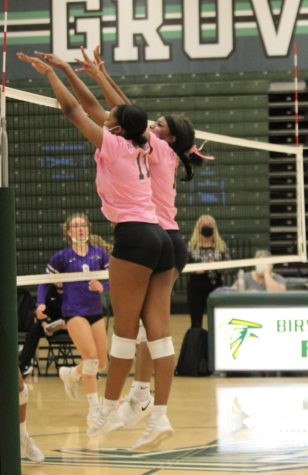 A big moment in our season was our game against Seaholm on September 9.
"We made a goal to beat our rival Seaholm and we did it as a team, we all worked together and had fun. Beating Seaholm my senior year was probably one of the best things." Mines said.
Seaholm is always the biggest regular-season game of the year, the rivalry is unlike any other game. The last time we beat Seaholm was twelve years ago.
"I got the first block which was the first point and I got the last block which was the game-winning point. I turned around and everyone was ecstatic and I saw my coach's face. She looked so proud we won because she went to Seaholm, it was one of the goals that we all set, and we hadn't beaten them in so long. The whole team came around jumping and cheering, we were just so happy that we had won," Apsey said.
Winning against Seaholm meant a lot to everyone because we haven't beaten them in so long, and beating them was a primary team goal. It was the perfect way to end off our last tournament. We all worked together to beat them: we didn't put each other down and we didn't give up on each other, and we made sure we all had fun. Having fun as a team and lifting each other up helped us play at a much higher level because we knew we had people on the court we could count on.
Leave a Comment
Donate to The Groves Scriptor
Your donation will support the student journalists of Wylie E. Groves High School. Your contribution will allow us to purchase equipment and cover our annual website hosting costs.