Groves student organizes the Asian Students Association in order to educate the community on Asian culture
Looking for an after school activity? Groves offers many clubs made to suit just about anyone and everyone. In January, a new club was started. Sophomore Sanuthi Wickramasinghe created the Asian Student Association to help educate the Grove's community about Asian culture and heritage, as well as spread awareness about Asian discrimination. 
When Wickramasinghe began at Groves her freshman year, she found out she could start her own club, and had a lot of built up motivation to do so for many reasons.
She felt that Asian discrimination had become too normalized, as she and many other students had experienced countless racist encounters since elementary school.
"I had a kid get mad at me for bringing Sri Lankan food to school, she kept complaining that my food was spicy and that it smelled bad and kept insulting me," Wickramasinghe said. She had felt a significant detachment from her Sri Lankan roots throughout the lockdown.
"I had a lot of disconnect from my culture due to Covid, from not being able to go to my temple, and not being able to do a lot of Sri Lankan events," Wickramasinghe said.
She also noted that the small number of Asian students at Groves (approximately 35 students) should be a more tight knit community in order to create a safer space.
"I just want Asian students at our school to feel valued and feel appreciated and also for people to be informed about how rich Asian culture is and how we're not just a small group- [Asia] it's a giant continent with so much history," Wickramasinghe said.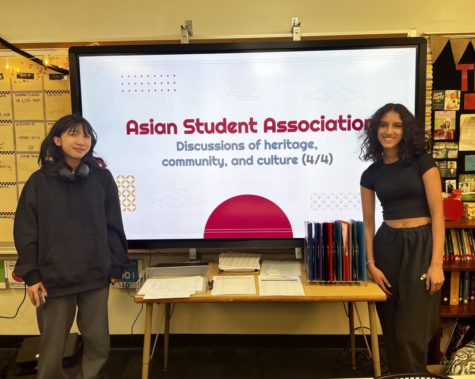 Club sponsor and special education teacher Molly Gezon has similar feelings pertaining to an available place where Asian students at Groves can be themselves.
"Thinking about my experience in high school, I would've loved to have a club like this where I could feel comfortable expressing my identity," Gezon said. 
 After communications with Class of 2022 Groves alumni Clarice Kim, as well as some of her friends, Wickramasinghe was able to get the club started. Gezon stands as her club sponsor, and sophomore Noemie Allane as her co-president. Though the club is in the works, meetings are still engaging and informative.
"We do check-in's where people can do mini icebreakers and introduce themselves, then I usually have a question of the day. We just kind of get into our discussion and we usually get a lot of good information and learn a lot, gain a lot of perspective, and have fun," Wickramasinghe said.
Asian Student Association stays up to date with current world events and holidays; they have plans to celebrate Sri Lankan New Year and Asian American Pacific Islander Heritage Month in May. In addition, ASA has collaborated with other clubs, such as the Cooking Club to introduce Asian fusion to other students through food, even if they do not regularly attend ASA.
"We're planning on collaborating with Seaholm's ASA since they've been running longer and we're going to have a little party," Wickramasinghe said.
Mrs. Gezon also spoke regarding her experience with sponsoring ASA meetings every other Tuesday. Reflecting on her own experiences in school, she decided that sponsoring this would benefit other students.
"I like seeing the students being able to be their true selves without trying to hide … I like how they can express themselves," Gezon said. "It's hard especially in high school with your identity and so this is a safe place where you can be your true self. I know we're just starting up but there's still a decent amount of people going and turning to people and checking in about things that are happening around the world with Asian hate crimes happening in society; really forming our own kind of family."
Wickramasinghe's main goal is that ASA will eventually grow as a club and be able to help with current racist acts happening across the area and Groves' community.
"Everyone is welcome to come, there's no rule saying 'if you're not Asian, you're not able to come', we love to have anyone come," Wickramasinghe said.
If you ever find yourself with nothing to do on Tuesdays, consider going to an ASA meeting. You could help implement changes at this school and make new friends in the process!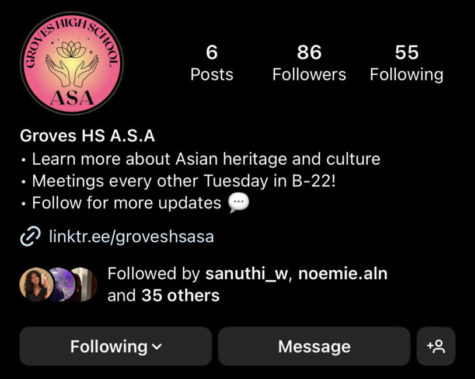 Leave a Comment
Donate to The Groves Scriptor
Your donation will support the student journalists of Wylie E. Groves High School. Your contribution will allow us to purchase equipment and cover our annual website hosting costs.
About the Contributor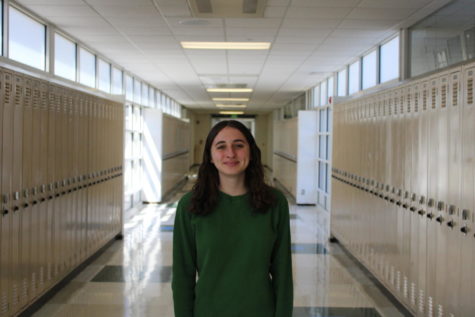 Mia Boland, Reporter
Mia Boland is a new reporter for the Groves Scriptor. Though this is her first year taking journalism, she has loved writing since elementary school, and...