Bloomfield Hills takes down Groves boys basketball team 62-46
Disappointment.
That's all Groves senior guard Aaron DuBose felt after Bloomfield Hills took down the Groves basketball team by a score of 62-46.
DuBose didn't think the score was an accurate representation of the game.
"I definitely think we were in the game. We missed a few shots here and there that we normally make on a good night," DuBose said
A lack of defensive intensity was a common theme brought up by Groves' players including senior forward Quinton Steele.
"I feel like we came out with a lot of effort on offense, but not enough on defense, and that's a recurring issue in our games, and I think we need to pick our defense up," Steele said.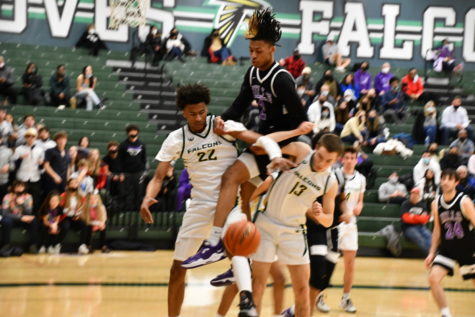 Steele also emphasized the importance of defense at Groves.
"Everything comes from defense. You saw tonight how many points Bloomfield Hills scored, and that easily could've been limited by effort on defense," Steele said.
Coach Benny White agrees that the team needs to improve on defense, but was pleased that the players themselves were self-reflective and wanted to see better results.
"I think our team probably heard me say it enough, but they are smart enough to recognize that from sitting on the bench. They can recognize our guys just weren't dialed in defensively. That's just kind of who we are sometimes. Sometimes we look like we can be aggressive, and look like we can play. Sometimes we aren't aggressive and look like we can't play. That's kind of how it's been going, and we have to get certain people to step up, and be confident in themselves, and today we didn't have that. We will learn from it," White said.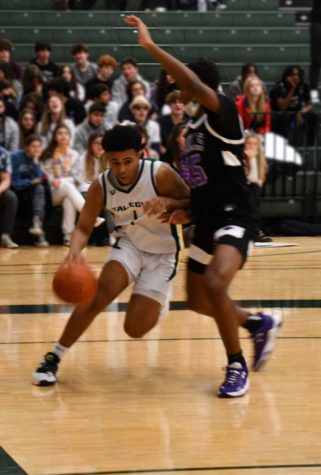 Steel added that defense is the backbone of every team.
"We need to realize that if we don't improve defensively, the same result is going to keep happening with every game," Steele said.
White encourages his players to take responsibility for their effort and intensity level and predicts the disappointment they feel now will fuel them to win the next game.
"I think it's hard to get 100% effort, but they have to hate losing because of not giving 100% effort. If this loss hurts our guys as it should, then next game we shouldn't have to preach giving effort. That's it, that's the only way you can do it. As a coach, I can demand it, but as a player, you need to know it yourself," White said.
Groves sophomore guard Brody Tushman thinks the solution for Groves' struggles isn't basketball related.
"We definitely need to bond as a team, and get some more chemistry going by being with each other more off the court," Tushman said.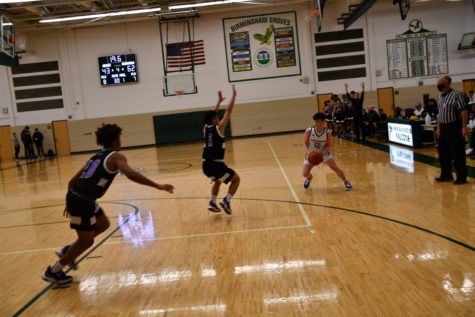 Groves showed some life in the 3rd quarter, but it wasn't enough to overtake Bloomfield Hills, as they were the better team on January 27. White also noticed a lack of team chemistry, as well a loss of momentum after the short-lived 3rd quarter run.
"We fought in the 3rd quarter and made a little run, but Bloomfield Hills is a good team, they executed and got a couple more baskets than us. They stopped our momentum, and we never got it back again," White said.
White used the adage "practice how you play", and didn't think his team practiced at the level they needed to win.
"Preparation, that's important to us. I thought our last two practices weren't good enough to play well tonight," White said.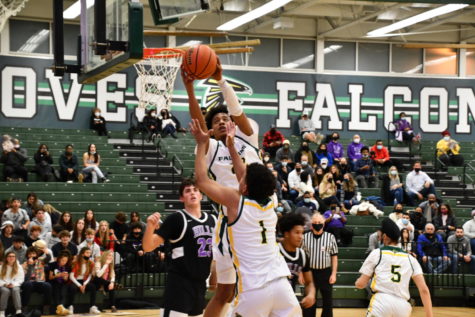 While the score might indicate a wide margin between these two teams, DuBose believes that Groves can win the next time the teams face off on February 18.
"I definitely think we can beat them," DuBose said. "A few things here and there, and we definitely will be able to beat them next time."
Leave a Comment
Donate to The Groves Scriptor
Your donation will support the student journalists of Wylie E. Groves High School. Your contribution will allow us to purchase equipment and cover our annual website hosting costs.