Chicago in Beverly Hills
A behind the scenes look at the Groves Performing Arts Company's Fall 2022 musical
The award winning Groves Performing Arts Company is set to put on Chicago The Musical, high school edition this November 4, 2022. The musical illustrates a story between two murderers who develop a fierce rivalry while competing for fame, publicity, and a sleazy lawyer's attention. Wait, a bunch of high schoolers are performing this? Anyone who knows about musicals may be confused how Chicago could possibly be made school appropriate but, "We changed it to less raunchy and more flappers and 1920s style," says senior Belle Mason, who is playing Matron "Mama" Morton, the keeper of keys at the Cook County Jail. Instead of the scandalous behaviors, the characters portray in the original musical, this show will focus more on tap dancing, feathery boas, and 1920s-esque costumes.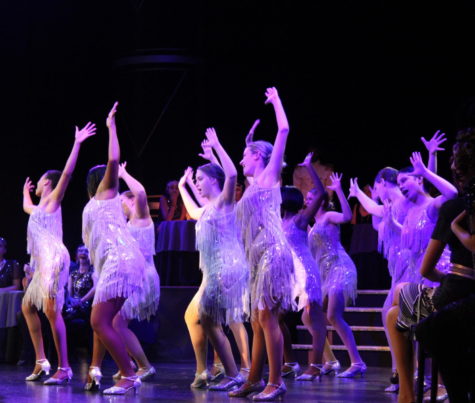 As I walked into rehearsals, I was encapsulated with fierce energy to be productive and make something beautiful. The passion from every single person in the room for this one shared goal was clear. With the tech crew bouncing from one place to another, they control everything from the music, to lights, down to every individual actor's microphone. The entire acting cast, the ensemble and leads, all were simultaneously warming up voices and dances. For a full rehearsal, not a soul in the auditorium is taking a break. If one person isn't in the specific act that is performing on stage, then they're at the tech booth adjusting technology, or backstage changing costumes or helping out wherever it's needed. The amount of time and effort that is put into the show is more than I could have ever imagined. Not only is the result of countless hours put into the show clear, but the friendships and collaboration the cast share is admirable. Everyone is extremely supportive of one another, however, that is not to be confused with not wanting the best for each other. Constructive criticism is taken and passed around like salt at a dinner party. The entire cast is eager to improve their performance, and the end result is magical.
One cast member who is a seasoned pro at the fall musical is Senior Owen Glossinger, who is currently in his fourth year with GPAC. He is playing Roxie Hart's defense attorney, Billy Flynn (yes, the sleazy lawyer). When asked on how he manages to portray someone so unlike himself, Glossinger said, "I like the more confident characters that I've played and this guy walks in and he owns the room, which is a lot of fun to do. He kind of knows what's going on at all times, so that's a lot of fun to play."
GPAC is bursting at the seams with actors, like Owen, who are extremely dedicated and excited about their roles. However, there is no one single factor driving GPAC to be what it is. The dedication of the directors, actors, crew, orchestra, and everyone else supporting this production is explicit, and can be seen in every avenue of their rehearsals. As an avid Groves Performing Arts Company viewer, I have never left one of their shows feeling anything short of amazed. There is no doubt in my mind that Chicago will not follow suit, and be another top notch production. If you're interested in seeing the show for yourself, opening night is Nov. 4 in the Groves High School Auditorium and will have shows on varying days up until Nov. 13.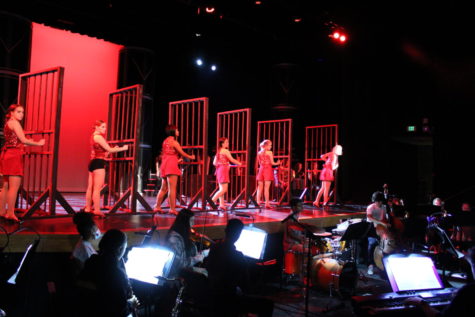 Leave a Comment
Donate to The Groves Scriptor
Your donation will support the student journalists of Wylie E. Groves High School. Your contribution will allow us to purchase equipment and cover our annual website hosting costs.